Challenges facing copy biologicals in China Posted 23/04/2021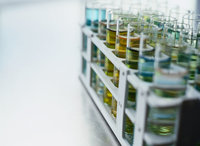 There are many challenges still facing Chinese companies when it comes to getting copy biologicals onto the market. Such challenges include creating a strong manufacturing and distribution infrastructure, which is essential for the successful launch of copy biologicals.
Manufacturing
Manufacturing of biologicals is more challenging than for traditional small molecule drugs. Biologicals are large and complex, often consisting of heterogeneous mixtures. They are generally made in genetically engineered cells that impose their own variabilities – in post-translation modifications such as glycosylation – on the processes used to make such drugs. This can produce challenges when manufacturing biologicals, as even minor changes in manufacturing process can cause significant changes in efficacy or immunogenicity [1].

Complicated manufacturing processes lead to an increase in costs. For example, Innovent has indicated that large biologicals manufacturing facilities require upward of US$200–US$700 million to build, compared with only US$30–US$100 million for small molecule facilities of a similar scale. Such costs could present a major hurdle for Chinese companies. There is also a lack of capacity at contract research organizations (CROs), whose facilities are mostly pilot scale, designed for preclinical or clinical trial usage, and have not yet demonstrated their ability to handle full-scale commercial good manufacturing practice (GMP) production. Therefore, manufacturing is an area requiring significant investment.

Distribution
Once the copy biologicals have been developed, approved by regulators and produced on a commercial scale, they still need to be distributed to hospitals and patients.

Experience from Europe and the US has shown that the success of the biosimilar market is closely linked to the creation of a strong commercial ecosystem that informs physicians and patients of this new therapeutic class and ensures the availability of drugs through an efficient supply chain.

Currently, China's marketing and distribution system still lacks transparency. For example, when it comes to the prescription drug model, rebates and other reward systems can heavily influence physicians' decision-making and potentially increase the risk of overcharging end-users/patients.

Editor's comment
European Medicines Agency regulatory requirements ensure the same high standards of quality, safety and efficacy for biosimilars as for originator biologicals, and also include a rigorous comparability exercise with the reference product but they are not universally accepted by regulatory bodies outside of the European Union (EU). It should be noted that 'copy biologicals' approved in China might not have been authorized if they had been subjected to the strict regulatory processes required for approval of biosimilars in the EU.

Related articles
The future of copy biologicals in China

Investment increasing pipeline of copy biologicals in China

Improved regulation favouring copy biologicals in China

Patent expiries may drive development of copy biologicals in China

LATIN AMERICAN FORUM – Coming soon!

To further enhance the objectives of GaBI in sharing information and knowledge that ensure policies supportive of safe biosimilars use, we are pleased to announce that we will be launching a new section on GaBI Online and GaBI Journal, the 'Latin American Forum' (in Spanish) featuring the latest news and updates on research and developments in generic and biosimilar medicines in Latin America.

Register to receive the GaBI Latin American Forum newsletter. Inform colleagues and friends of this new initiative.

LATIN AMERICAN FORUM – Próximamente!

Para fomentar los objetivos de GaBI sobre la difusión de información y conocimiento sobre las políticas de apoyo que garantizan el uso seguro de medicamentos biosimilares, nos complace anunciar el lanzamiento de una nueva sección en GaBI Online y GaBI Journal, el 'Latin American Forum' (en español), que presentará las últimas noticias y actualizaciones en investigación y desarrollo sobre medicamentos genéricos y biosimilares en Latinoamérica.

Regístrese para recibir el boletín informativo GaBI Latin American Forum. Informe a colegas y amigos sobre esta nueva iniciativa.

Reference
1. GaBI Online - Generics and Biosimilars Initiative. Small molecule versus biological drugs [www.gabionline.net]. Mol, Belgium: Pro Pharma Communications International; [cited 2021 Apr 23]. Available from: www.gabionline.net/Biosimilars/Research/Small-molecule-versus-biological-drugs

Permission granted to reproduce for personal and non-commercial use only. All other reproduction, copy or reprinting of all or part of any 'Content' found on this website is strictly prohibited without the prior consent of the publisher. Contact the publisher to obtain permission before redistributing.

Copyright – Unless otherwise stated all contents of this website are © 2021 Pro Pharma Communications International. All Rights Reserved.