Merck & Co uses its traditional strengths in biosimilars race Posted 16/11/2009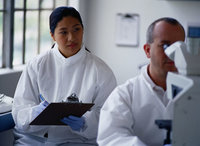 With sales growth for biologicals expected to outpace that in the overall pharmaceutical sector over the next few years, it is not surprising that 'big pharma' has been beefing up its presence in the sector through acquisitions and licensing deals.
What might be more surprising is that large R & D-based firms such as Merck & Co see their traditional strengths in innovative research, clinical development and marketing as valuable assets, rather than hindrances, in the race to develop follow-on biologics or 'biosimilars'.

This at least was the message from Dr Frank Clyburn, Senior Vice President and General Manager of Merck BioVentures, the new division set up by Merck & Co in late 2008 to develop its business in the biosimilars field.

Addressing the recent BioJapan meeting in Yokohama, Dr Clyburn pointed to predictions that the total therapeutic biologicals market would expand to US$187 billion (Euros 125.68 billion) in 2014, which would mean a roughly doubling of the 2007 figure of US$94 billion (Euros 63.17 billion). Biologicals, both original and follow-on, would account for nearly a quarter of the global pharma market at the end of the same period, he said.

But the business of biosimilars was very different to that of small molecule generics, with much higher barriers to entry. These included the need for a comprehensive suite of clinical data, extensive product characterisation studies and specialist manufacturing capability.

While the investments required for these would deter many smaller or standard generics firms, "Merck intends to leverage its existing global development and clinical expertise for its follow-on biologics business," Dr Clyburn told the meeting. R & D spending at Merck BioVentures is set to rise to US$1.5 billion (Euros 1.01 billion) by 2015, he noted.

The US firm has also made judicious use of acquisitions to kick-start its effort, buying the private US glyco-engineering firm GlycoFi for around US$400 million (Euros 268.82 million) in 2006, and paying US$130 million (Euros 87.35 million) for Insmed's product portfolio and manufacturing facilities in February 2009.

GlycoFi's Pichia yeast-based expression system held out particular promise, Dr Clyburn said, as it enabled the production of consistent, homogenous products. This was expected to be valuable in the regulatory process for follow-on biologics, where comparability to the original product is a central concept.

"Being first to market will still be important but not critical. Other factors such as quality equivalence and price will also play a big part," Dr Clyburn told a packed lunch session. On marketing, his view was that a dedicated biologicals sales force would also be needed, to counter what could be negative detailing by branded firms on issues of safety and quality.

Merck BioVentures is planning to launch six follow-on biologics between 2012 and 2017. Its lead project is the erythropoietin product for anaemia, MK-2578, for which the first market introductions are expected in 2012.

Speakers from other multinationals at the meeting highlighted the importance of investment in bioventures, in-house R & D and alliances to keep up the flow of pipeline projects.

Dr Yetunde Olabisi Taiwo, a senior director within Eli Lilly's global external R & D function, revealed that the company was planning to set up a fund for investment in selected Japanese ventures. Eli Lilly already has similar initiatives globally and elsewhere in Asia to tap into external innovation.

In a keynote address, Novartis International's Chief Operating Officer Dr Joerg Reinhardt observed that 21% of projects in his company's current pipeline came from licensees. The Swiss group also saw Asia as attractive for research, and was planning to make R & D investments in the region in addition to its Chinese R & D centre in Shanghai. It has earmarked around US$100 million (Euros 67.19 million) for this facility, which will work mainly on virus-related cancers.

But while some firms were outsourcing their fundamental research, Novartis saw it as important to invest in its in-house work in this area. "The early confirmation of biological response in defined disorders can be very valuable," Dr Reinhardt said.

With the explosive growth in biologicals research, he sounded a note of caution about the risk also inherent in this sector, which was originally thought to be relatively low. "Between 2001 and 2008, only 5% of biologics in phase II actually made it through to approval," he observed.

Reference:
Merck & Co looks to its traditional strengths in foray into follow-on biologics. Scrip News. 2009 Oct 22.