Use of pegfilgrastim copy biological Mecapegfilgrastim in neutropenia Posted 06/12/2019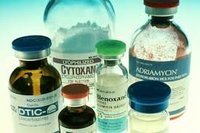 Italian oncologists report on studies carried out with a new pegfilgrastim copy biological, Mecapegfilgrastim (HHPG-19K) [1].
Tirelli et al., outline how clinical efficacy of pegfilgrastim is achieved with a single 6 mg dose once-per-chemotherapy cycle. Therefore, pegfilgrastim is more convenient and less expensive for patients and hospitals than filgrastim for the treatment of chemotherapy-related neutropenia [an abnormally low concentration of neutrophils (a type of white blood cell) in the blood].

In China, however, pegfilgrastim is not available. This leaves filgrastim, which requires daily injections, as the only treatment option in this setting. Mecapegfilgrastim (HHPG-19K) is a copy biological of pegfilgrastim developed by Jiangsu Hengrui Medicine. The copy biological has been shown, in phase III studies in non-small cell lung cancer (NSCLC) and breast cancer, to be effective as daily filgrastim prophylaxis of neutropenia-associated with chemotherapy and to have comparable pharmacokinetics and safety profiles.

According to Tirelli et al., data from the phase III breast cancer study showed that in a randomized comparison of two different doses of Mecapegfilgrastim or filgrastim given during the first cycle of chemotherapy, Mecapegfilgrastim, when administered in primary prophylaxis of chemotherapy-induced neutropenia, was non-inferior and even superior to filgrastim.

The fixed 6 mg dose of Mecapegfilgrastim regimen gave a similar efficacy and safety profile compared with the 100 μg/kg regimen of Mecapegfilgrastim. A fixed dose is preferable in clinical practice due to the convenient once per cycle administration and the high degree of treatment compliance for the patient.

The authors state that 'This randomized study therefore provide[s] new evidence for the novel long acting mecapegfilgrastim, to be a new safe and effective alternative for the prophylaxis of chemotherapy induced neutropenia in comparison with filgrastim and can be used in a convenient one-per-cycle administration for breast cancer patients'. They also suggest that 'this new long acting PEG-filgrastim may be very useful also in some frail subgroups of patients like elderly patients and HIV-related tumours'.

Tirelli et al. conclude that 'for China but also for other countries, these results are very important in that allows the safe use with demonstrated activity of a new biosimilar of pegfilgrastim, Mecapegfilgrastim, developed in China'. They add that 'breast cancer is an ideal setting where this approach could be tested in that breast cancer is a very common malignancy and chemotherapy is still a very frequent and efficacious modality of treatment'.

Conflict of interest
The authors of the research paper [1] declared that there was no conflict of interest.

Editor's comment
It should be noted that 'copy biologicals' approved in China might not have been authorized following as strict a regulatory process as is required for approval of biosimilars in the European Union. The EMA (European Medicines Agency) regulatory requirements ensure the same high standards of quality, safety and efficacy for biosimilars as for originator biologicals, and also include a rigorous comparability exercise with the reference product.

Related articles
Copy biologicals approved in China

Reference
1. Tirelli U, Carbone A, Di Francia R, et al. A new peg-filgrastim biosimilar, mecapegfilgrastim for primary prophylaxis of chemotherapy-related neutropenia is now available. Ann Transl Med. 2019. doi.org/10.21037/atm.2019.10.61

Permission granted to reproduce for personal and non-commercial use only. All other reproduction, copy or reprinting of all or part of any 'Content' found on this website is strictly prohibited without the prior consent of the publisher. Contact the publisher to obtain permission before redistributing.

Copyright – Unless otherwise stated all contents of this website are © 2019 Pro Pharma Communications International. All Rights Reserved.