Understanding and minimizing injection-site pain for biologicals Posted 05/02/2021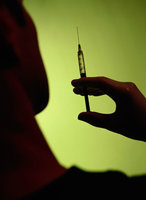 Biologicals have revolutionized treatment across a range of immune and inflammatory-related diseases and have had considerable impact on the health economy. Switching to a biosimilar has proven to be an effective, safe and pharmacoeconomically advantageous strategy for health systems.
Injection-site pain is often cited by patients as a reason for not attempting, or not maintaining, switches from the originator product to a biosimilar. Before the introduction of biosimilars patients accepted treatment with some injection-site pain, as this was the only option available. For some originator products, changes were introduced to the formulation with the intention of reducing injection-site pain. Information campaigns have highlighted this issue prior to the introduction of biosimilars potentially influencing patients' acceptance of any switching programme.

In view of the considerable savings that can be realized with a switch, it was felt that understanding and managing injection-site pain proactively would support patients and services when attempting to switch from one product to another in the future.

Recognizing the importance of injection-site pain to patients and how it influences compliance, author St Clair-Jones and colleagues explored the factors influencing injection-site pain associated with subcutaneous administration of biologicals and investigated strategies to minimize this sensation and increase acceptance [1].

They reviewed product, injection and patient-related factors contributing to injection-site pain for agents used in the treatment of immune-mediated inflammatory diseases for which biosimilars of different formulations were available at the time of publication.

Multiple factors such as pH, volume and excipients, as well as the injection process have the potential to contribute to injection-site pain. In addition, some patients seem more susceptible due to low body weight, gender and age. Total elimination of injection-site pain is unlikely with subcutaneously administered medication, but proactive management of patient expectations and discussions prior to switching regarding the potential risk of injection-site pain can increase the success of a switching programme. Effective and robust training on confident and competent injections techniques can minimize the amount of injection-site pain during initiation and maintenance of a treatment change.

Ensuring the patient feels in control of the change reduces treatment-related anxiety and in turn increases the acceptance of the switching programme. Effective communication between patient and clinician is of great importance to optimize the treatment experience, achieve the best patient care and support compliance with the new medication.

Conflict of interest
The authors of the research paper [1] reported conflict of interest including having received consulting fees, research grants from and being an advisory committee member for pharmaceutical companies. For full details of the authors' conflict of interest, see the research paper [1].

Abstracted by Anja St Clair-Jones from the Pharmacy Department, Brighton and Sussex, University Hospitals NHS Trust, Brighton, UK

Editor's comment
Readers interested to learn more about injection-site pain with subcutaneous administration of biologicals are invited to visit www.gabi-journal.net to view the following manuscript published in GaBI Journal:

Systematic analysis of injection-site pain and reactions caused by subcutaneous administration of the adalimumab biosimilar FKB327 versus the adalimumab reference product via different delivery methods

GaBI Journal is indexed in Embase, Scopus, Emerging Sources Citation Index and more.

Readers interested in contributing a research or perspective paper to GaBI Journal – an independent, peer reviewed academic journal – please send us your submission here.

GaBI Journal Citation Impact
1.7 – Citescore 2019 (calculated on 6 May 2020)
2.0 – CiteScoreTracker 2020 (Last updated on 10 January 2021)

Submit a manuscript to GaBI Journal

Related article
Key issues for adalimumab biosimilars

LATIN AMERICAN FORUM – Coming soon!

To further enhance the objectives of GaBI in sharing information and knowledge that ensure policies supportive of safe biosimilars use, we are pleased to announce that we will be launching a new section on GaBI Online and GaBI Journal, the 'Latin American Forum' (in Spanish) featuring the latest news and updates on research and developments in generic and biosimilar medicines in Latin America.

Register to receive the GaBI Latin American Forum newsletter. Inform colleagues and friends of this new initiative.

LATIN AMERICAN FORUM – Próximamente!

Para fomentar los objetivos de GaBI sobre la difusión de información y conocimiento sobre las políticas de apoyo que garantizan el uso seguro de medicamentos biosimilares, nos complace anunciar el lanzamiento de una nueva sección en GaBI Online y GaBI Journal, el 'Latin American Forum' (en español), que presentará las últimas noticias y actualizaciones en investigación y desarrollo sobre medicamentos genéricos y biosimilares en Latinoamérica.

Regístrese para recibir el boletín informativo GaBI Latin American Forum. Informe a colegas y amigos sobre esta nueva iniciativa.

Reference
1. St Clair-Jones A, Prignano F, Goncalves J, et al. Understanding and minimising injection-site pain following subcutaneous administration of biologics: a narrative review. Rheumatol Ther. 2020;7(4):741-57.

Permission granted to reproduce for personal and non-commercial use only. All other reproduction, copy or reprinting of all or part of any 'Content' found on this website is strictly prohibited without the prior consent of the publisher. Contact the publisher to obtain permission before redistributing.

Copyright – Unless otherwise stated all contents of this website are © 2021 Pro Pharma Communications International. All Rights Reserved.