Adalimumab biosimilars in Europe: a review Posted 31/01/2020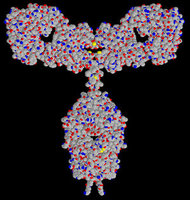 A recent position statement from the Belgian inflammatory bowel disease (IBD) research group (BIRD) reviews the five biosimilars of adalimumab available in the European Union (EU) [1]. Adalimumab, which has been marketed under the brand name Humira, is a popular antibody treatment for a number of inflammatory conditions.
Adalimumab is one of a number of biological treatments available for IBD, which includes Crohn's disease and ulcerative colitis. Like infliximab (Remicade), it is a monoclonal antibody treatment that targets the inflammatory molecule tumour necrosis factor-alpha (TNF-α).

The first infliximab biosimilar was approved in the EU in 2013 and the first adalimumab biosimilar in 2017. There are now five adalimumab biosimilars available in the EU [2].

Following BIRD's position statement on the use of infliximab biosimilars, the group has now reviewed each of the adalimumab biosimilars available in the EU [1]. The key points are summarized below.

ABP501 (Amgevita)
ABP501 was the first European Commission approved adalimumab biosimilar. It is sold by Amgen under the brand name Amgevita. Comparative analysis has shown that Amgevita has similar physicochemical properties and biological activity to the reference product. A phase III trial in 350 patients with psoriasis showed clinical similarity from Week 16 of treatment. A further phase III study in over 500 people with rheumatoid arthritis demonstrated similar efficacy, safety and immunogenicity.

SB5 (Imraldi)
SB5, which is marketed as Imraldi by Biogen, demonstrated equivalent pharmacokinetics in a study in healthy subjects. A subsequent phase III trial in 544 patients with rheumatoid arthritis demonstrated an equivalent efficacy and safety profile. A follow-up phase III transition study which randomized patients to either continue with the originator or switch to SB5 showed similar response rates, demonstrating maintained efficacy and similar safety profiles after transition. This showed that switching does not have negative effects on efficacy, adverse effects or immunogenicity.

GP2017 (Hyrimoz)
A phase I study of GP2017 (Hyrimoz, Sandoz) showed bioequivalence with the originator with no clinically relevant differences in safety, tolerability or immunogenicity. A 51-week phase III trial of 465 patients with psoriasis showed equivalent efficacy and no relevant differences in serum drug concentrations or safety profile. The results of the study also suggested that switching between originator adalimumab and GP2017, in some cases up to four times, had no impact on efficacy, safety or immunogenicity.

FKB327 (Hulio)
A phase I study of FKB327 (Hulio, Mylan) in healthy subjects demonstrated similar pharmacokinetics. A further phase III study in over 700 patients with rheumatoid arthritis showed similar efficacy, safety and immunogenicity. A further randomized open-label extension study showed comparable response rates between continuous biosimilar and switched (biosimilar-originator, originator-biosimilar) treatment.

MSB11022 (Idacio)
The article finally reviews MSB11022, or Idacio, which is sold by Fresenius Kabi. A phase I trial initially showed bioequivalence in healthy volunteers and a phase III study of 443 psoriasis patients demonstrated equivalent efficacy after 16 weeks of treatment. A subsequent extension study showed comparable response rates between continuously treated patients and those who underwent switching.

Conflict of interest
Several of the authors of the research paper [1] reported conflict of interest, including having received research grants and other financial support from pharmaceutical companies. For full details of the authors' conflict of interest, see the research paper [1].

Editor's comment
Readers interested to learn more about biosimilars for inflammatory bowel disease are invited to visit www.gabi-journal.net to view the following manuscripts published in GaBI Journal:

Importance of manufacturing consistency of the glycosylated monoclonal antibody adalimumab (Humira®) and potential impact on the clinical use of biosimilars

Biosimilar infliximab introduction into the gastroenterology care pathway in a large acute Irish teaching hospital: a story behind the evidence

Readers interested in contributing a research or perspective paper to GaBI Journal – an independent, peer reviewed academic journal – please send us your submission here.

Related articles
Key issues for adalimumab biosimilars

Adalimumab copy biological shown to be safe and effective

References
1. Somers M, Bossuyt P, Ferrante M, Peeters H, Baert F. Belgian IBD Research Group (BIRD) Position Statement 2019 on the Use of Adalimumab Biosimilars in Inflammatory Bowel Diseases. J Crohns Colitis 2019 Dec 26. doi: 10.1093/ecco-jcc/jjz209. [Epub ahead of print]
2. GaBI Online - Generics and Biosimilars Initiative. Biosimilars approved in Europe [www.gabionline.net]. Mol, Belgium: Pro Pharma Communications International; [cited 2020 Jan 31]. Available from: www.gabionline.net/Biosimilars/General/Biosimilars-approved-in-Europe

Permission granted to reproduce for personal and non-commercial use only. All other reproduction, copy or reprinting of all or part of any 'Content' found on this website is strictly prohibited without the prior consent of the publisher. Contact the publisher to obtain permission before redistributing.

Copyright – Unless otherwise stated all contents of this website are © 2020 Pro Pharma Communications International. All Rights Reserved.