Biosimilars of omalizumab
Posted 19/08/2016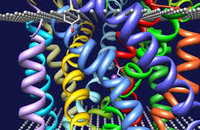 Last update: 3 November 2017
Omalizumab is a recombinant DNA-derived humanized IgG1k monoclonal antibody that specifically binds to free human immunoglobulin E (IgE) in the blood and interstitial fluid and to membrane-bound form of IgE (mIgE) on the surface of mIgE-expressing B lymphocytes [1]. Unlike an ordinary anti-IgE antibody, it does not bind to IgE that is already bound by the high affinity IgE receptor (FcεRI) on the surface of mast cells, basophils, and antigen-presenting dendritic cells. The originator product Novartis's Xolair (omalizumab) is indicated for the treatment of moderate to severe persistent asthma and chronic idiopathic urticaria despite antihistamine treatment.
The originator product, Novartis' Xolair (omalizumab), was approved by the US Food and Drug Administration (FDA) on 20 June 2003 and by the European Medicines Agency (EMA) on 25 October 2005 [1]. Xolair had worldwide sales of US$835 million in 2016.
The patents on Xolair will expire in the US on 20 June 2017 and in Europe in August 2017 [1]. Some of the omalizumab biosimilars and non-originator biologicals* approved or in development are presented in Table 1.
Table 1: Biosimilars and non-originator biologicals* of omalizumab approved or in development
Company name, Country

Product name

Stage of development

Glenmark Pharmaceuticals, India*

GBR 310

Received FDA clearance for first-in-human trial in April 2017

Sorrento Therapeutics/MabTech, USA/China*

STI-004

Phase II/III trial completed in May 2016 [2]

FDA: US Food and Drug Administration.
*See editor's comment
US-based biopharmaceutical company Sorrento Therapeutics (Sorrento) announced on 16 May 2016 that its partner, MabTech had successfully completed a combined phase II and III clinical trial in China for STI-004, a copy biological for omalizumab (Xolair) [2].
Editor's comment
It should be noted that 'copy biologicals' approved in China might not have been authorized following as strict a regulatory process as is required for approval of biosimilars in the European Union. The EMA (European Medicines Agency) regulatory requirements ensure the same high standards of quality, safety and efficacy for biosimilars as for originator biologicals, and also include a rigorous comparability exercise with the reference product.
Related articles
Biosimilars of basiliximab
References
1. Derbyshire M. Patent expiry dates for biologicals: 2016 update. Generics and Biosimilars Initiative Journal (GaBI Journal). 2017;6(1):27-30. doi:10.5639/gabij.2017.0601.006
2. GaBI Online - Generics and Biosimilars Initiative. Positive phase III results for omalizumab copy biological [www.gabionline.net]. Mol, Belgium: Pro Pharma Communications International; [cited 2016 Aug 19]. Available from: www.gabionline.net/Biosimilars/News/Positive-phase-III-results-for-omalizumab-copy-biological
Permission granted to reproduce for personal and non-commercial use only. All other reproduction, copy or reprinting of all or part of any 'Content' found on this website is strictly prohibited without the prior consent of the publisher. Contact the publisher to obtain permission before redistributing.
Copyright – Unless otherwise stated all contents of this website are © 2016 Pro Pharma Communications International. All Rights Reserved.