Follow-on glatiramer acetate (M356) claimed as equivalent to Copaxone
Posted 05/11/2015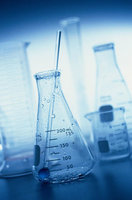 A multi-dimensional evaluation of the equivalence of a follow-on glatiramer acetate (M356) and the brand-name originator version (Copaxone) has been reported to show equivalence of biological and physicochemical properties, with no significant differences in the structure and function of the two products [1].
Glatiramer acetate is a mixture of synthetic polypeptides manufactured from four amino acids: alanine, lysine, glutamic acid and tyrosine. It is produced entirely through chemical processes with standard starting materials in a predictable and reproducible reaction typical of complex drugs, i.e. there is an inherent micro-heterogeneity between batches observed in both physicochemical and functional assays.
Equivalence between M356 and Copaxone was evaluated in several categories:
1. Amino acid starting materials and basic chemistry
2. General scheme of the manufacturing process (polymerization, depolymerization and purification)
3. Fragmentation-based physicochemical properties, e.g. multiple methods for amino acid composition, molar mass distribution, N- and C-terminal analysis, peptide/acetate ratio, potency
4. Non-clinical biological and immunological properties, e.g. multiple molecular, cell based, and in vivo assays for T cell, B cell and APC biology; experimental autoimmune encephalitis (EAE) models; gene expression profile
Results of the evaluation were presented at the 67th American Academy of Neurology Annual Meeting, which took place on 18–25 April 2015 in Washington, DC, USA. The results showed no significant differences in the structure and function of M356 and Copaxone. Equivalence of physicochemical properties was demonstrated across > 45 tests using a variety of methods for fragmentation-based characterization, e.g. amino acid analysis, NMR, SEC, ELISA, HPLC, LC-MS, CD, Western Blot. Equivalence of biological properties was demonstrated across > 15 non-clinical assays, including efficacy in three EAE models, immunogenicity studies and gene expression profiling. However, no clinical data on equivalence (efficacy and safety) were reported.
Copaxone is classified as a non-biological complex drug (NBCD), but since there are currently no guidelines for 'follow-on' versions of NBCDs such drugs are approved under the generics pathway. However, due to their complexity and the fact that they cannot be fully quantitated, characterized or described by (physico-)chemical analytical tools, some groups have said that the generics pathways may not be appropriate in assessing public health safety and clinical efficacy, and have called for regulatory guidelines for follow-on versions of NBCDs [2]. The European Medicines Agency has responded to such concerns with the adoption of two reflection papers for NBCDs in the form of follow-on versions of intravenous liposomal products [3] and iron-based nano-colloidal products [4].
Momenta/Sandoz's Glatopa (glatiramer acetate, M356) received approval from the US Food and Drug Administration on 16 April 2015 [5].
Conflict of interest
Several of the authors of the abstract [1] reported conflicts of interest, including having received personal compensation for activities with Momenta Pharmaceuticals. For more details see [1].
Editor's comment
It should be noted that data of the study presented in this article was published as an abstract and presented at a conference. These data and conclusions should be considered to be preliminary until published in a peer-reviewed journal.
Related article
FDA accepts applications for three-times-weekly follow-on Copaxone
References
1. Anderson J, et al. Demonstration of equivalence between a generic (M356) and brand Copaxone® (glatiramer acetate injection) (P1.145). Poster Session I: MS and CNS Inflammatory Diseases: Treatment Mechanisms of Action. Neurology. 2015;84(14):Supplement P1.145.
2. GaBI Online - Generics and Biosimilars Initiative. Guidelines needed for follow-on versions of NBCDs [www.gabionline.net]. Mol, Belgium: Pro Pharma Communications International; [cited 2015 Nov 6]. Available from: www.gabionline.net/Reports/Guidelines-needed-for-follow-on-versions-of-NBCDs
3. GaBI Online - Generics and Biosimilars Initiative. EU guidelines for follow-on NBCDs [www.gabionline.net]. Mol, Belgium: Pro Pharma Communications International; [cited 2015 Nov 6].
4. GaBI Online - Generics and Biosimilars Initiative. EMA issues reflection paper for follow-on versions of iron-based nano-colloidal products [www.gabionline.net]. Mol, Belgium: Pro Pharma Communications International; [cited 2015 Nov 6]. Available from: www.gabionline.net/Non-Biological-Complex-Drugs/Guidelines/EMA-issues-reflection-paper-for-follow-on-versions-of-iron-based-nano-colloidal-products
5. GaBI Online - Generics and Biosimilars Initiative. FDA approves first follow-on version of glatiramer acetate [www.gabionline.net]. Mol, Belgium: Pro Pharma Communications International; [cited 2015 Nov 6]. Available from: www.gabionline.net/Non-Biological-Complex-Drugs/News/FDA-approves-first-follow-on-version-of-glatiramer-acetate