Biologicals and biosimilar use in Asian patients with IBD
Posted 15/11/2019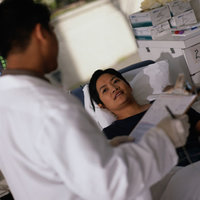 The increasing incidence of inflammatory bowel diseases (IBD) has become a major challenge for gastroenterologists in some Asian countries, particularly China, Japan and Korea. This subject was discussed in the August 2019 issue of the Journal of Gastroenterology and Hepatology [1].
Journal editors Joyce Mak and Joseph Sung pointed out the importance of providing guidelines on the use of immunomodulators and biologicals in IBD.
Gastroenterologists from across Asia published a list of 29 recommendations for the use of biologicals and off-patent biologicals in the control of ulcerative colitis and Crohn's disease [2].
Mak and Sung, highlight three points from the recommendations made by the Asia Pacific Working Group (APWG).
1. Latent infection is a major threat when using potent immunosuppressive agents. This led the APWG to emphasize screening for tuberculosis, as well as hepatitis B virus.
Although Mak and Sung agree that 'these recommendations look sensible and prudent', they note 'that they are based on relatively weak evidence'.
2. There are still a substantial number of patients not responding to biologicals. Therefore, in order to achieve optimal therapeutic effects, the APWG recommends routine checking of anti-tumour necrosis factor (anti-TNF) drug concentrations. For infliximab, the steady-state trough level is recommended as 3‒7 µg/mL, and for adalimumab, 4‒8 µg/mL.
Mak and Sung point out that the authors admit that these recommended levels are based on studies with large variations in study design, as well as in assay method and standardization. They therefore state that 'the levels chosen are therefore somewhat arbitrary' and add that 'none of these studies are conducted among the Asian population'.
3. The cost of biologicals is imposing a heavy burden on the Asian healthcare system. The APWG believes that early use of biologicals can improve clinical outcome. However, due to cost restraints, they do not recommend a top-down approach, that is, using a brand-name biological as first-line therapy and switching to a biosimilar when stabilized. Instead they recommend accelerated step-up usage of biological therapy for the management of IBD patients with high risk factors and predictors of poor outcomes.
Mak and Sung point out that the cost of biologicals is substantial and may not be affordable for patients. The majority of the population in Asia are not covered by health insurance, and health expenses are often paid out of pocket.
The unit price of infliximab 100 mg and adalimumab 40 mg are US$660 and US$563, respectively. To date, four biosimilars are approved by the US Food and Drug Administration and are available in Asia: infliximab-dyyb (Infectra), infliximab-abda (Renflexis), adalimumab-atto (Amjevita) and adalimumab-adbm (Cyltezo). It had been hoped that, with the advent of biosimilars, treatment of IBD would become much more affordable. However, these drugs are not cheap in Asia. Their prices have not been set significantly lower than the originator brand-name biologicals.
Finally, Mak and Sung also point out that, although 'much progress has been made in therapeutic advancement in the West, clinical studies are urgently needed to optimize therapy for Crohn's disease and ulcerative colitis in the East. Safe, efficacious, and affordable drugs are urgently needed'.
Conflict of interest
The author of the editorial [1] did not provide any conflict of interest statement.
Editor's comment
Readers interested to learn more about regulation and approval of biosimilars across Asia are invited to visit www.gabi-journal.net to view the following manuscripts published in GaBI Journal:
First ASEAN educational workshop on regulation and approval of biosimilars/similar biotherapeutic products 2017 – Report
GaBI Journal is indexed in Embase, Scopus, Emerging Sources Citation Index and more.
Readers interested in contributing a research or perspective paper to GaBI Journal – an independent, peer reviewed academic journal – please send us your submission here.
Related articles
Is switching to biosimilar infliximab safe?
Biosimilars to replace older biologicals for IBD
References
1. Mak JW, Sung JJ. The use of biologics and biosimilar in Asian patients with IBD: are we ready? J Gastroenterol Hepatol. 2019;34(8):1269-70.
2. GaBI Online - Generics and Biosimilars Initiative. Asian specialists recommendations for off-patent biologicals in IBD [www.gabionline.net]. Mol, Belgium: Pro Pharma Communications International; [cited 2019 Nov 15]. Available from: www.gabionline.net/Biosimilars/Research/Asian-specialists-recommendations-for-off-patent-biologicals-in-IBD
Permission granted to reproduce for personal and non-commercial use only. All other reproduction, copy or reprinting of all or part of any 'Content' found on this website is strictly prohibited without the prior consent of the publisher. Contact the publisher to obtain permission before redistributing.
Copyright – Unless otherwise stated all contents of this website are © 2019 Pro Pharma Communications International. All Rights Reserved.