Study undermines pharmaceutical industry's justification for high pricing in the US Posted 28/04/2017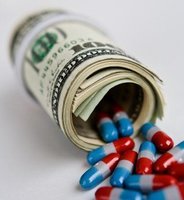 A recent report in Health Affairs suggests that drug prices in the US generate significantly more revenue than their development costs, dismantling a common argument put forward by the pharmaceutical industry.
The consumer cost of drugs in the US is notoriously higher than other parts of the world. In fact, per capita prescription drug spending in the US exceeds that in all other countries. This is mainly the result of high pricing for brand-name drugs. Such prices are often justified by the high costs of drug development; however, a recent analysis by Health Affairs suggests that research and development (R & D) costs cannot explain the high prices set by pharmaceutical companies in the US.

The industry has traditionally relied on the argument that charging higher prices is necessary to fund high-risk R & D efforts. Now, using public data on R & D expenses, drug prices and sales volumes, researchers have quantified the premiums earned by pharmaceutical companies and compared it to the amount they spend on research.

The analysis focused on the drug companies that manufactured the top 20 selling drugs in 2015: AbbVie, Amgen, AstraZeneca, Biogen, Bristol-Myers Squibb, Celgene, Roche (Pharma division), Gilead, GlaxoSmithKline and Johnson & Johnson (Pharma division). The excess revenue generated by the companies because of the higher prices they charged for their products in the US was estimated. On average, the US list price for medicines sold by the companies exceeded that in other countries by 41%.

The researchers found that the premium earned by US net prices exceeding the list prices of other countries generated US$116 billion for 2015. However, the companies spent just US$76 billion (66% of the total) on global R & D. The premium earned by Bristol-Myers Squibb represented 76% of its global R & D budget, while Biogen's premium was over double its R & D spending. Other companies, such as AstraZeneca and Novartis, generated excess revenue that was about the same as their spending on R & D. Three companies were almost able to cover their research spending through pricing of just one product: AbbVie (through Humira, used to treat arthritis), Biogen (through Tecfidera, a multiple sclerosis (MS) drug) and Teva (Copaxone, also used to treat MS).

In sum, the study suggests that the profits pharmaceutical companies earn from charging higher prices in the US generates significantly more than they spend on R & D, challenging the claims repeatedly made by the industry. The authors say that reducing US prices to match spending on R & D across the companies in the study could have saved US patients, businesses and taxpayers US$40 billion for 2015 alone.

These conclusions directly contradict PhRMA's explanation that drugs are priced to enable innovation. The authors however are careful to say that their analysis does not address whether the prices are appropriate, only that they exceed what is necessary to fund global R & D.

Critics of the study say it does not explain whether higher prices in the US lead to bigger investments in innovation, and only identifies a correlation between revenue and spending on R & D. PhRMA commented that the study puts forward a 'misleading narrative' and understates how the competitive US marketplace for medicines helps to provide patients with unprecedented access to innovative treatments. They also say drug pricing is based on other factors, including unmet patient need and a drug's ability to reduce costs in other areas of the healthcare system.

Related articles
US pharmacy benefit firm suggests rebates are not driving drug price rises

Prices of brand-name drugs in the US have doubled since 2011

Permission granted to reproduce for personal and non-commercial use only. All other reproduction, copy or reprinting of all or part of any 'Content' found on this website is strictly prohibited without the prior consent of the publisher. Contact the publisher to obtain permission before redistributing.

Copyright – Unless otherwise stated all contents of this website are © 2017 Pro Pharma Communications International. All Rights Reserved.