Persistence with generic imatinib in CML patients Posted 23/02/2018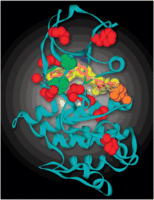 A study carried out by researchers from Canada investigated the clinically comparability of brand-name and generic imatinib in patients treated for chronic myeloid leukaemia (CML) [1].
Generic imatinib was approved for use in Canada based on bioequivalence. In Quebec, generic imatinib was approved and reimbursed in early 2013 and was mandated to replace brand-name imatinib for patients with public drug coverage later the same year.

A high rate of discontinuation of generic imatinib has been reported to be related to intolerance but no clinical studies have been conducted to determine whether generic imatinib is clinically comparable to brand-name imatinib for CML patients.

The records of patients diagnosed with CML and who started treatment with generic imatinib between 2013 and 2016 were selected from the Quebec CML registry. These records were matched with brand-name imatinib users who had recorded use of brand-name imatinib at the same calendar date, had the closest duration of prior brand-name imatinib use and the closest age. Matched pairs were followed until switch in therapy, death, withdrawal of consent or end of study.

Of the 167 matched pairs that were included, 72.8% (95% CI, 63.4.5%−81.7%) of generic imatinib users and 88.9% (95% CI, 82.8%−93.6%) of brand-name imatinib users persisted with their tyrosine kinase inhibitor at 42 months (p = 0.03). Overall, generic imatinib use was associated with an increased risk of switch (HR, 2.13; 95% CI, 1.18−3.86) compared with use of brand-name imatinib.

These data were presented at the American Society of Hematology's (ASH) 59th Annual Meeting and Exposition, which was held on 9−12 December 2017 in Atlanta, GA, USA.

The results, according to the authors, showed that 'in this matched cohort study with close to 4 years of follow-up, generic imatinib users were twice as likely to stop their TKI compared to users of brand-name imatinib , marking lower persistence. In most cases of termination of generic imatinib use, the patients reverted to brand-name imatinib, and intolerance was the main cause for TKI switch'. The authors concluded that 'future studies are warranted to investigate the safety profile of generic imatinib'.

Conflict of interest
The authors of the abstract [1] have received honoraria from various pharmaceutical companies. For full details of the authors' conflict of interest, see the abstract [1].

Related articles
Efficacy and safety of generic imatinib after switching

Oncology drug pricing – the case of generic imatinib

Reference
1. Adi J. Klil-Drori, et al. Persistence with generic imatinib for chronic myeloid leukemia: a matched cohort study. Blood. 2017;130:315.

Permission granted to reproduce for personal and non-commercial use only. All other reproduction, copy or reprinting of all or part of any 'Content' found on this website is strictly prohibited without the prior consent of the publisher. Contact the publisher to obtain permission before redistributing.

Copyright – Unless otherwise stated all contents of this website are © 2018 Pro Pharma Communications International. All Rights Reserved.