Teva submits BLA for biosimilar filgrastim in US Posted 08/01/2010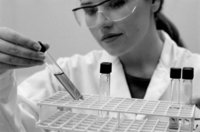 Teva has taken its first step in the US biosimilars market. On 1 December 2009 the company submitted a Biologics License Application (BLA) with the US FDA for XM02, a biosimilar filgrastim for the treatment of severe neutropenia, a blood disorder characterised by an abnormally low number of neutrophils, the most important type of white blood cells in the blood.
XM02 is a biosimilar to Amgen's brand drug Neupogen (filgrastim), which has annual sales of US$800—900 million in the US. The Teva drug, like Amgen's Neupogen, is used to boost white blood cells in cancer patients undergoing some types of chemotherapy that can cause severe neutropenia, or low white blood cell count. Amgen, which has not yet had to face any biosimilar competition for its medicines in the US, reported combined worldwide sales of Neupogen and a related medicine Neulasta of US$1.21 billion in the third quarter of 2009.

Biosimilars are 'similar' generic drugs based on biological drugs. In the absence of legislation regulating biosimilars, Teva submitted the BLA with the FDA.

Teva Vice President Global Branded Products, Moshe Manor, told The Globes, "This is an important milestone for Teva. In the past two years, we've been talking about biosimilars, and today we took the important and exciting step to realize this strategy".

XM02 is already sold in several European countries, under the name TevaGrastim. Mr Manor said that, to the best of Teva's knowledge, XM02 is the first biosimilar submitted for approval in the US.

Teva's BLA submission is based on results from a clinical programme of five studies with more than 680 patients, including a clinical trial that compared XM02, Neupogen and a placebo. The key study was conducted in breast cancer patients. Two additional clinical trials evaluating safety and efficacy were conducted in lung cancer and Non-Hodgkin's Lymphoma patients.

On the expected timetable for approving XM02 and its expected price Mr Manor said: "New products usually take a year for approval. In this case, we'll have to work with the FDA. Our policy is to submit products with the same quality as the brand drug at cheaper prices. We'll have to market this product, too. I can't comment on price policy, but the price probably won't be dramatically lower as in the case of normal generic drugs".

The US Congress has not yet established regulations for biosimilars. The regulations are due to be part of the Obama administration's healthcare reform. The last proposal approved includes a relatively long 12-year exclusivity period for biological drugs of biotechnology companies.

Mr Manor: "We'll be in the biosimilar business no matter what. We're committed to the industry, and it's critical for our future growth. We readying for the [US] legislation, but we've demonstrated that we can make progress even without an existing track".

"We are pleased to complete the BLA submission for XM02, and as a result, mark a US milestone for us as it is our first biological product," William Marth, Chief Executive of Teva's North American operations, said in a statement.

References:

Shiri Habib-Valdhorn. Teva submits first biogeneric application in US. Globes Online. 2009 December 1.

Bill Berkrot. UPDATE 1-Teva seeks FDA nod for biosimilar of Amgen drug. Reuters. 2009 December 1.
Source: Globes Online; Reuters