Biosimilars of pegaspargase Posted 30/06/2017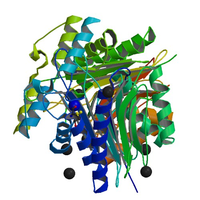 Pegaspargase is a modified enzyme. It is a form of L-asparaginase which has undergone PEGylation. It is used as an anticancer ('antineoplastic' or 'cytotoxic') chemotherapy drug. It is indicated for the treatment of acute lymphocytic leukaemia (ALL), non-Hodgkin's lymphoma and for treatment of patients who have had a hypersensitivity reaction to another form of asparaginase.
The originator product, Baxalta's Oncaspar (pegaspargase), was approved by the US Food and Drug Administration (FDA) in February 1994 and by the European Medicines Agency (EMA) in January 2016 [1]. Baxala (now part of Shire) acquired Oncaspar from Sigma-Tau Finanziaria in July 2015. The drug had sales of US$87 million for Baxalta in 2015, with historic annual sales of approximately US$1 billion.

Oncaspar does not appear to be covered by any patents. However, assuming 10 years of exclusivity in the European Union (EU) and 12 years in the US, then these periods will expire in 2026 in the EU and expired in 2006 in the US [1]. Some of the pegaspargase biosimilars and non-originator biologicals* approved or in development are presented in Table 1.

Table 1: Biosimilars and non-originator biologicals* of pegaspargase approved or in development
Company name, Country

Product name

Stage of development

Amega Biotech, Argentina*

-

Investigation in acute lymphoblastic leukaemia in Argentina ongoing

Pfenex/Strides Acrolab, USA/India*

PF690

Candidate undergoing preclinical/ bioanalytical characterization

*See editor's comment
The fact that no biosimilars makers are very far along the road to developing a pegaspargase biosimilar, despite the fact that the exclusivity on the originator product already expired in the US in 2006, highlights the costs involved and complexity in developing biosimilars.

Editor's comment
It should be noted that 'similar biotherapeutic products' approved in Argentina or 'similar biologics' approved in India might not have been authorized following as strict a regulatory process as is required for approval of biosimilars in the European Union. The EMA (European Medicines Agency) regulatory requirements ensure the same high standards of quality, safety and efficacy for biosimilars as for originator biologicals, and also include a rigorous comparability exercise with the reference product.

Related article
Biosimilars of abatacept

Reference
1. Derbyshire M. Patent expiry dates for biologicals: 2016 update. Generics and Biosimilars Initiative Journal (GaBI Journal). 2017;6(1):27-30. doi:10.5639/gabij.2017.0601.006

Permission granted to reproduce for personal and non-commercial use only. All other reproduction, copy or reprinting of all or part of any 'Content' found on this website is strictly prohibited without the prior consent of the publisher. Contact the publisher to obtain permission before redistributing.

Copyright – Unless otherwise stated all contents of this website are © 2017 Pro Pharma Communications International. All Rights Reserved.
Source: ClinicalTrials.gov,EMA, US FDA