Biosimilars of filgrastim Posted 20/03/2015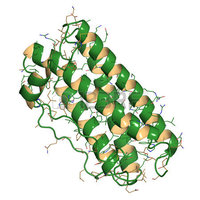 Last update: 25 January 2019

Filgrastim is a granulocyte colony-stimulating factor (G-CSF). Filgrastim treatment can be used to stimulate the bone marrow to produce more neutrophils (white blood cells) to fight infection in patients undergoing chemotherapy for cancer treatment.
The originator product, Amgen's Neupogen (filgrastim), was approved by the US Food and Drug Administration (FDA) in February 1991 [1]. Neupogen had worldwide sales of US$1.4 billion in 2013 before the approval of the first filgrastim biosimilars, see Table 1.

The patents on Neupogen expired in the US in December 2013 and in Europe in 2006 [1]. Some of the filgrastim biosimilars approved or in development are presented in Table 1.
Table 1: Biosimilars and non-originator biologicals* of filgrastim approved or in development

Company name, Country

Product name

Stage of development

Adello Biologics

-

Accepted for review by FDA in September 2017 [2]

Apotex (Apobiologix), Canada

Grastofil

Biosimilar approved in the EU in October 2013 for neutropenia [3]. Application for approval submitted to US FDA via abbreviated biosimilars pathway in February 2015 [4].

Aryogen Biopharma, Iran*

TinaGrast

'Biogeneric' marketed in Iran

Biocon, India*

Nufil

'Similar biologic' marketed in India [5]

Biosidus, Argentina*

Granulostim/ Neutromax

Medicamento biológico similar approved in Argentina

Cadila Pharmaceutical, India*

Filgrastim

'Similar biologic' approved in India in October 2013 [5]

Claris Life Sciences, India*

Fegrast

'Similar biologic' marketed in India [5]

CT Arzneimittel, Germany

Biograstim

Biosimilar marketed in EU, where it was approved in September 2008 for cancer, haematopoietic stem cell transplantation, and neutropenia [3].

Dr Reddy's Laboratories, India*

Grafeel

'Similar biologic' marketed in India [5]

Eurofarma Laboratórios, Brazil

Fiprima

Follow-on biological approved in Brazil in October 2015 [6]

Hexal, Germany

Filgrastim Hexal (EP2006)

Biosimilar marketed in EU, where it was approved in February 2009 for cancer, haematopoietic stem cell transplantation and neutropenia [3].

Hospira (Pfizer), USA

Nivestim (EU)/ Nivestym (US)

Biosimilar marketed in EU, where it was approved in June 2010 for cancer, haematopoietic stem cell transplantation and neutropenia [3]. Approved by FDA in July 2018 [7].

Intas Biopharmaceuticals, India*

Neukine

'Similar biologic' approved in India in July 2004 [5]

Gennova Biopharmaceuticals (Emcure), India*

Emgrast

'Similar biologic' approved in India in March 2010 [5]

Lupin, India*

Filgrastim

'Similar biologic' approved in India in March 2013 [4]

Merck (MSD)

MK-4214

Phase III trial in breast cancer prematurely ended

Nanogen Pharmaceutical, Vietnam*

Ficocyte

'Product' marketed in Vietnam

Pooyesh Darou Biopharmaceutical, Iran*

PDGRASTIM

'Biogeneric' marketed in Iran

Ratiopharm, Germany

Ratiograstim

Biosimilar marketed in EU, where it was approved in September 2008 for cancer, haematopoietic stem cell transplantation and neutropenia [3].

Reliance Life Sciences, India*

Religrast

'Similar biologic' approved in India in 2008 [5]

Sandoz, Switzerland

Zarzio (EU)/ Zarxio (USA) (EP2006)

Biosimilar marketed in the EU where it was approved in February 2009 for cancer, haematopoietic stem cell transplantation and neutropenia [3]. Received Japanese approval in March 2014 [8]. Approved by FDA in March 2015 [9]

Stada Arzneimittel, Germany

Grastofil

Biosimilar in-licensed from Apotex in October 2013. Marketing expected to start in all the EU countries in 2014 [10]

Tanvex BioPharma, Taiwan

TX-01

Biosimilar application for approval submitted to US FDA in October 2018 [11]

Teva Pharmaceutical Industries, Israel

Tevagrastim

Biosimilar marketed in the EU, where it was approved in September 2008 for cancer, haematopoietic stem cell transplantation and neutropenia [3]. Non-originator biological approved in South Africa in November 2017 [12]

USV, India*

Filgrastim

'Similar biologic' approved in India in June 2013 [5]

EU: European Union; EMA: European Medicines Agency; FDA: US Food and Drug Administration.
*See editor's comment
Sandoz's biosimilar filgrastim, Zarzio, is used in clinical practice in over 40 countries around the world. In fact, Zarzio is the number one biosimilar filgrastim globally. In 2013, it became the most prescribed daily G-CSF treatment in Europe overtaking originator products from Amgen (Neupogen) and Chugai (Granocyte) in terms of number of prescriptions [13].

Editor's comment
It should be noted that 'similar biologics' approved in India, 'biogenerics' approved in Iran, 'medicamento biológico similares' approved in Argentina, and non-originator biologicals approved in South Africa might not have been authorized following as strict a regulatory process as is required for approval of biosimilars in the European Union. The EMA (European Medicines Agency) regulatory requirements ensure the same high standards of quality, safety and efficacy for biosimilars as for originator biologicals, and also include a rigorous comparability exercise with the reference product.

Related article
Biosimilars of pegfilgrastim

References
1. Derbyshire M. Patent expiry dates for biologicals: 2017 update. Generics and Biosimilars Initiative Journal (GaBI Journal). 2018;7(1): 29-34. doi:10.5639/gabij.2018.0701.007
2. GaBI Online - Generics and Biosimilars Initiative. FDA accepts application for Adello's filgrastim biosimilar [www.gabionline.net]. Mol, Belgium: Pro Pharma Communications International; [cited 2018 Feb 23]. Available from: www.gabionline.net/Biosimilars/News/FDA-accepts-application-for-Adello-s-filgrastim-biosimilar
3. GaBI Online - Generics and Biosimilars Initiative. Biosimilars approved in Europe [www.gabionline.net]. Mol, Belgium: Pro Pharma Communications International; [cited 2015 Mar 20]. Available from: www.gabionline.net/Biosimilars/General/Biosimilars-approved-in-Europe
4. GaBI Online - Generics and Biosimilars Initiative. Apotex pegfilgrastim biosimilar under FDA review [www.gabionline.net]. Mol, Belgium: Pro Pharma Communications International; [cited 2015 Mar 20]. Available from: www.gabionline.net/Biosimilars/News/Apotex-pegfilgrastim-biosimilar-under-FDA-review
5. GaBI Online - Generics and Biosimilars Initiative. 'Similar biologics' approved and marketed in India [www.gabionline.net]. Mol, Belgium: Pro Pharma Communications International; [cited 2015 Mar 20]. Available from: www.gabionline.net/Biosimilars/General/Similar-biologics-approved-and-marketed-in-India
6. GaBI Online - Generics and Biosimilars Initiative. Filgrastim follow-on biological approved in Brazil [www.gabionline.net]. Mol, Belgium: Pro Pharma Communications International; [cited 2016 Mar 25]. Available from: www.gabionline.net/Biosimilars/News/Filgrastim-follow-on-biological-approved-in-Brazil
7. GaBI Online - Generics and Biosimilars Initiative. FDA approves filgrastim biosimilar Nivestym [www.gabionline.net]. Mol, Belgium: Pro Pharma Communications International; [cited 2019 Jan 25]. Available from: www.gabionline.net/Biosimilars/News/FDA-approves-filgrastim-biosimilar-Nivestym
8. GaBI Online - Generics and Biosimilars Initiative. Biosimilar filgrastim gains Japanese approval [www.gabionline.net]. Mol, Belgium: Pro Pharma Communications International; [cited 2015 Mar 20]. Available from: www.gabionline.net/Biosimilars/News/Biosimilar-filgrastim-gains-Japanese-approval
9. GaBI Online - Generics and Biosimilars Initiative. FDA approves its first biosimilar [www.gabionline.net]. Mol, Belgium: Pro Pharma Communications International; [cited 2018 Feb 23]. Available from: www.gabionline.net/Biosimilars/News/FDA-approves-its-first-biosimilar
10. GaBI Online - Generics and Biosimilars Initiative. Stada in-licenses biosimilar filgrastim [www.gabionline.net]. Mol, Belgium: Pro Pharma Communications International; [cited 2015 Mar 20]. Available from: www.gabionline.net/Biosimilars/News/Stada-in-licenses-biosimilar-filgrastim
11. GaBI Online - Generics and Biosimilars Initiative. Tanvex BioPharma submits filgrastim biosimilar to FDA [www.gabionline.net]. Mol, Belgium: Pro Pharma Communications International; [cited 2019 Jan 25]. Available from: www.gabionline.net/Biosimilars/News/Tanvex-BioPharma-submits-filgrastim-biosimilar-to-FDA
12. GaBI Online - Generics and Biosimilars Initiative. South Africa approves first non-originator biological [www.gabionline.net]. Mol, Belgium: Pro Pharma Communications International; [cited 2018 Feb 23]. Available from: www.gabionline.net/Biosimilars/News/South-Africa-approves-first-non-originator-biological
13. GaBI Online - Generics and Biosimilars Initiative. Biosimilar G-CSF prescribed more than originator [www.gabionline.net]. Mol, Belgium: Pro Pharma Communications International; [cited 2015 Mar 20]. Available from: www.gabionline.net/Biosimilars/News/Biosimilar-G-CSF-prescribed-more-than-originator

Permission granted to reproduce for personal and non-commercial use only. All other reproduction, copy or reprinting of all or part of any 'Content' found on this website is strictly prohibited without the prior consent of the publisher. Contact the publisher to obtain permission before redistributing.

Copyright – Unless otherwise stated all contents of this website are © 2016 Pro Pharma Communications International. All Rights Reserved.

GaBI Online - Generics and Biosimilars Initiative. Apotex pegfilgrastim biosimilar under FDA review [www.gabionline.net]. Mol, Belgium: Pro Pharma Communications International; [cited 2015 Mar 20]. Available from: http://www.gabionline.net/Biosimilars/News/Apotex-pegfilgrastim-biosimilar-under-FDA-review
Source: Amgen, EU Clinical Trials Register, EMA