Biosimilars: what patients need to know
Posted 08/11/2013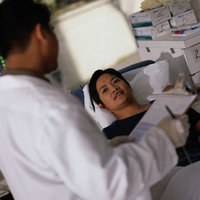 Biosimilars are medicines that are similar to a biological medicine that has already been authorized. Biosimilars are different to generics in that they are not identical to their reference product. This is due to the fact that they are derived from living cells and therefore demonstrate molecular complexity and heterogeneity. For this reason biosimilars must be 'similar but not identical' to their reference biological with regards to quality, safety, and efficacy.
Examples of biologicals include proteins such as insulin, growth hormone and erythropoietin (hormone for producing red blood cells).
Biosimilars may offer a less-costly alternative to existing biological medicines that have lost their exclusivity rights. Biosimilars have been used safely in clinical practice in the European Union since 2006.
But what specifically do patients need to know about biosimilars? The European Commission answers some questions regarding biosimilars in its consensus information document on biosimilars [1].
Approval of biosimilars
Since 2003 a specific legal and regulatory pathway exists for the development and approval of biosimilars. They are approved centrally by the European Medicines Agency (EMA).
Quality, efficacy and safety of biosimilars
An approved biosimilar and its reference biological are expected to have the same safety and efficacy profile. Biosimilars are made following the same standards as other biological medicines. To date, EMA has not found any specific safety issue for approved and marketed biosimilars.
European public assessment reports (EPARs)
Information on the pharmacokinetics, safety, immunogenicity and interchangeability studies on biologicals and biosimilars is published by EMA on their website: www.ema.europa.eu in the form of a European public assessment report (EPAR).
Switching
There is relatively little published data available on the number of patients that have been switched between biologicals in clinical practice. For questions related to switching from one biological to another, patients should speak to their doctor and pharmacist.
Adverse reactions
Biosimilars and their reference biologicals are expected to have the same safety and efficacy profile, which includes the same level of adverse reactions or 'side effects'. If a patient suspects that they have had an adverse reaction to a medicine, or they think the medicine is not having any effect, they should speak with a healthcare professional such as their prescribing doctor or a pharmacist.
Immunogenicity
Biologicals in general have the potential to be recognized by the body as 'foreign' and may cause unwanted immune reactions. This is called immunogenicity and it is due to their composition and large molecular size, compared to chemical medicines. However, there is no evidence or scientific rationale to suggest that biosimilars are likely to cause more immune reactions than their reference biologicals.
Extrapolation of indications
Biologicals are often authorized to treat more than one condition (indication). However, the mechanism of action can be the same. Therefore, it may be possible that the biosimilar can be scientifically justified to be used in other conditions (extrapolation of indications).
The scientific basis for this extrapolation of indications is that the product has the same mode of action as its reference product; that the biosimilar and the reference biological are proven to be comparable at the quality and biological level; and that there is conclusive evidence of similar safety and efficacy in at least one indication of the reference medicine.
Monitoring of biosimilars
Biosimilars, like all biologicals, must be continually monitored after authorization for adverse events. The monitoring of adverse reactions is a part of 'pharmacovigilance' (the system in place for monitoring the safety and risk-benefit balance of authorized medicines). All manufacturers are required to set up a system to monitor side effects for their medicines.
Counterfeited/falsified biosimilars
There is no evidence that biosimilar medicines are more likely to be counterfeited/falsified than any other medicines.
Cost of biosimilars
Biosimilars are introduced when exclusivity rights, e.g. patents, data protection, of the reference biological have expired. They may offer a less-costly alternative to existing biologicals and enhance competition. As a result, the availability of biosimilars may improve access to biologicals for more patients and help the financial sustainability of healthcare systems.
Choice
Patients should have a thorough conversation with their prescribing doctor about all the available therapeutic options, their safety, benefits and risks, and the differences between the medicines, before coming to a decision concerning treatment. Substitution policies are the responsibility of the individual Member States of the European Union.
Withdrawal of reference product
If the reference medicine is withdrawn for safety reasons, then that may be taken into consideration when assessing the biosimilar.
Taking biosimilars
In general, a biosimilar has to be taken exactly the same way as the reference medicine.
Related articles
Biosimilars: what physicians need to know
EU publishes consensus report on biosimilars
Reference
1. European Commission, Enterprise and Industry Directorate-General. Consensus Information Paper 2013. What you need to know about Biosimilar Medicinal Products. 2013 [cited 2013 Nov 8].
Permission granted to reproduce for personal and non-commercial use only. All other reproduction, copy or reprinting of all or part of any 'Content' found on this website is strictly prohibited without the prior consent of the publisher. Contact the publisher to obtain permission before redistributing.
Copyright – Unless otherwise stated all contents of this website are © 2013 Pro Pharma Communications International. All Rights Reserved.