Eagle moves into biosimilars with Arsia acquisition Posted 13/01/2017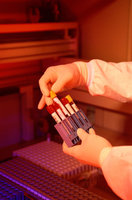 Specialty pharmaceuticals company Eagle Pharmaceuticals (Eagle) has signed an agreement to acquire Arsia Therapeutics (Arsia), the biotechnology company behind cutting-edge technology that enables intravenous drugs to be administered by injection.
Eagle is focused on developing enhanced injectables, while Arsia is an early-stage biotechnology company working to improve the delivery of biologicals, which are larger and more difficult to deliver than small-molecule drugs.

Large doses of biologicals must be delivered to achieve therapeutic effect. As they become highly unstable and thick (viscous) at the concentrations required for traditional injections, they are often administered in high volumes using slow intravenous infusions, which require a hospital setting. This is invasive, expensive and inconvenient.

To tackle this, Arsia has devised a way to produce high-concentration biologicals that are less viscous, and therefore suitable for administration by a simple (subcutaneous) injection. The Massachusetts-based company has already established partnerships with large pharmaceutical firms to apply their technology to biosimilars, create subcutaneous versions of intravenous products and develop high-concentration formulations of clinical candidates.

Eagle's acquisition of this pioneering company marks its entry into the biologicals market – reportedly the fastest growing sector of the pharmaceuticals market. The partnership will focus on so-called 'biobetters', superior versions of existing biologicals [1].

Biosimilars are biologicals that are highly similar to an existing, approved biological, with no clinically relevant differences in safety or effectiveness. By contrast, biobetters have a superior clinical profile to the reference biological (and its biosimilar competitors), which may lead to an improvement in safety, efficacy or method of administration. Biobetters have been described as the next big opportunity for pharmaceutical companies hoping to profit from the expiration of patents for biologicals [2].

Eagle suggest these biobetters will set themselves apart from other pharmaceutical companies investing in biosimilars, and will be key to product differentiation, pricing power and market share.

Under the agreement Eagle will pay around US$30 million, US$2.7 million of which will consist of stocks. The company has also agreed to pay up to a further US$48 million on completion of certain milestones. Arsia's founders Drs Robert Langer and Alexander Kilbanov of the Massachusetts Institute of Technology have also entered into separate agreements to work with Eagle to develop new formulations and create novel solutions for the delivery of large molecule therapeutics.

The partnership will enhance Eagle's formulation capabilities and product development opportunities. Arsia already has a number of early-stage partnerships in place with pharmaceutical companies and Eagle plans to partner with additional biosimilar companies to divert their existing product pipelines towards biobetters. They also plan to establish a 'Biologics Formulation Innovation Centre' in Cambridge, Massachusetts to expand the use of the technology.

Arsia commented that they were delighted to join forces with Eagle, which shares their dedication to the development of innovative and patient-friendly dosage forms, noting that Eagle's experience in this area will help bring their products to market.

Related article
Biosimilars or biobetters–what does the future hold

References
1. Anour R. Biosimilars versus 'biobetters'—a regulator's perspective. Generics and Biosimilars Initiative Journal (GaBI Journal). 2014;3(4):166-7. doi:10.5639/gabij.2014.0304.039
2. GaBI Online - Generics and Biosimilars Initiative. Biobetters rather than biosimilars. [www.gabionline.net]. Mol, Belgium: Pro Pharma Communications International; [cited 2017 Jan 13]. Available from: www.gabionline.net/Biosimilars/General/Biobetters-rather-than-biosimilars

Permission granted to reproduce for personal and non-commercial use only. All other reproduction, copy or reprinting of all or part of any 'Content' found on this website is strictly prohibited without the prior consent of the publisher. Contact the publisher to obtain permission before redistributing.

Copyright – Unless otherwise stated all contents of this website are © 2017 Pro Pharma Communications International. All Rights Reserved.
Source: Eagle Pharmaceuticals