Global biosimilars guideline development – EGA's perspective Posted 28/09/2009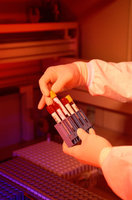 Biosimilar guidelines and regulations are being developed all over the world, as outlined at the 7th EGA Annual Symposium on Biosimilars recently held in London, UK by Ingrid Schwarzenberger, Head Regulatory Affairs Biopharmaceuticals at Sandoz and member of European Generic medicines Association's (EGA) European Biopharmaceutical Group.
Countries with biosimilar guidelines
In Turkey, a final guideline was issued in August 2008 by the General Directorate of Pharmaceuticals and Pharmacy, entitled Instruction Manual on Biosimilar medical products.
In Taiwan, a final guideline was issued on 21 November 2008 by the Department of Health, entitled Review Criteria for Registration and Market Approval of Pharmaceuticals-Registration and Market Approval of Biological Products.
In Malaysia, final guidance was issued on 30 July2008 by the Ministry of Health Malaysia, entitled Guidance Document for registration of Biosimilars in Malaysia.
In Australia, EU guidelines were adopted in August 2008.
In India a final guideline was issued on 11 July 2008, entitled Preparation of the Quality Information for Drug Submission for New Drug Approval: Biotechnological/Biological Products.
In Venezuela, a final guideline was issued on 3 August 2000, entitled SRPB-R Guidelines: application for Health Registry of DNA recombinant products, monoclonal and therapeutic antibodies, sub-classification for active substances already on the market.
In Brazil, a final guideline was issued on 26 October 2005 entitled Technical Rules for Registration of Biological Products.
In Colombia, a draft guideline was issued entitled License for Manufacturing facilities of biological products.
In Argentina, a draft guideline was issued in July 2008 by ANMAT, entitled Registration and registry modification of biological medicinal products.
In the Middle East, the consensus group recommended the implementation of the EMEA guidelines as the basis of Regional guidelines for the registration of biosimilars in the Near and Middle East.
In Saudi Arabia, draft guidance was issued in August 2008, entitled Drug Master File Requirements for the Registration of Biosimilars.
In Mexico, a draft guideline was issued on 9 October 2008 entitled Ley general de medicamentos biotecnológicos.
In Canada, a second draft guideline on Subsequent-Entry Biologics was issued in March 2009, which was open for comments for 60 days (26 May 2009): "… in appropriate circumstances, a biologic product that is not authorised for sale in Canada may be used as a reference product …".
WHO developed two draft versions in 2008. WHO's draft guideline has an EU-modelled 'biosimilar pathway' and a controversial 'alternative' pathway; the next draft guidance is to be expected after the WHO Meeting in October 2009. According to the WHO, a reference product is a "… previously approved reference medicinal product for which there is a substantial public record of safety and efficacy, … a medicinal product that was licensed on the basis of a full data package …".
The EU has a legal basis for biosimilars, published with Directive 2001/83/EU, as amended with Directive 2004/27/EU. A reference product requires the use of a reference product authorised in the EU to be used for the entire comparability exercise.
In Japan, a final guideline was issued on 4 March 2009; a reference product is "a biosimilar product … which has comparable quality, safety and efficacy to a … biotechnology-applied … product that has been approved in Japan …".
In the US, there are several bills now before Congress, including Waxman HR 1427 and Eshoo HR 1548; all bills require an FDA-approved biological reference product, thus mandating testing against US reference products.
Jurisdiction hurdle
As pointed out by Ms Ingrid Schwarzenberger, the European regulations, the Japanese guideline, and probably also the future US legislation, require the use of a reference product authorised in their jurisdiction. This would mandate the performance of separate, full-development programmes for each ICH country/region utilising the reference products authorised in each region. ICH stands for 'The International Conference on Harmonisation of Technical Requirements for Registration of Pharmaceuticals for Human Use'.

"This is unnecessary, unethical (because it requires duplication of preclinical and clinical studies) and uneconomical," stressed Ms Schwarzenberger. "Reference products are often the same or highly similar in different countries, even though licensed under different jurisdictions. Often, documentation is available in the public domain, confirming that the products are the same. Comparability of reference products of one original manufacturer from different highly regulated countries (EU, US) can be clearly established by stringent analytical and functional studies. Under these premises it should not be required to duplicate preclinical and clinical studies for each country or region."

According to Ms Schwarzenberger, there should be a way to let a science-based approach towards global development overcome the regulatory burden. "The first step should be the obligation by applicants to show comparability between a biosimilar and the relevant reference products. The next step (if necessary) should be the exchange of information on reference products between regulators in the context of confidentiality agreements. The importance of this issue is demonstrated by inclusion of biosimilar development into the 'EU-FDA Transatlantic Simplification Initiative'. The current pharmacovigilance activities require 'single identification of medicines'. Global development is a must to remain competitive and financially viable. It is the only way to improve worldwide availability, affordability and access to biosimilars," she concluded.
Comments (1)
How i got my loan from a loan lender posted 13/08/2016 - by MrsKate Wilson
Hello Every One, I am Mrs Kate Wilson From Alaska U.S.A, I quickly want to use this medium to share a testimony on how God directed me to a Legit and real loan lender who have transformed my life from grass to grace, from being poor to a rich woman who can now boast of a healthy and wealthy life without stress or financial difficulties. After so many months of trying to get a loan on the internet and was scammed the sum of $4,600 i became so desperate in getting a loan from a legit loan lender online who will not add to my pains, then i decided to contact a friend of mine who recently got a loan online, we discussed about the issue and to our conclusion she told me about a woman called Mrs Ann Perry who is the C.E.O of Ann Perry Loans So i applied for a loan sum of (60,000.00USD) with low interest rate of 2%, so the loan was approved easily without stress and all the preparations where made concerning the loan transfer and in less than two(2) days the loan was deposited into my bank so i want to advice any one i need of a loan to quickly contact her via: ( annperryloanfirm@hotmail.com) she does not know am doing this i pray that God will bless her for the good thing she has done in my life.