HIV generics could significantly cut treatment costs Posted 01/02/2013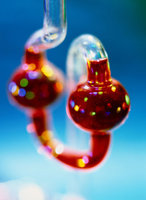 The US Government could save almost US$1 billion in the first year alone by using generic rather than brand-name drugs for the treatment of HIV patients, according to a study published in the Annals of Internal Medicine [1].
The study was carried out by researchers at the Massachusetts General Hospital, and used a mathematical model to compare the clinical effect, costs and cost-effectiveness of a 3-pill, generic-based regimen with a brand-name, co-formulated (1-pill) regimen. The model was also designed to project the potential savings for the US in the first year of a switch to generic-based antiretroviral therapy (ART).

Current US guidelines for the treatment of HIV recommend the brand-name once-daily 1-pill combination drug Atripla (efavirenz-emtricitabine-tenofovir) for first-line ART therapy. However, with generic versions of efavirenz expected to be available shortly in the US, it is expected that a 3-pill combination of generic efavirenz, generic lamivudine (already approved and similar to emtricitabine) and brand-name tenofovir would also become available for treatment of HIV.

Compared with no therapy, the generic-based ART resulted in an incremental cost-effectiveness ratio (ICER) of US$21,100 per quality-adjusted life-year (QALY). The ICER for the brand-name treatment, compared with the generic therapy, was US$114,800 per QALY, which exceeds the US$100,000 benchmark that is generally used for judging the cost-effectiveness of medicines in the US.

The results of the study showed that starting or switching all HIV-infected patients in the US to the generic-based ART would produce lifetime savings of US$42,500 per patient, and predicted that savings for the US in the first year would be US$920 million.

The study also pointed to the fact that patients would need to take three pills instead of one, which could reduce adherence and lead to treatment failure. Laboratory studies have also found that lamivudine may be slightly less effective and more vulnerable to the development of drug-resistant viral strains than emtricitabine. This could result in 4.4 months of life lost per patient lifetime. Lead author Dr Walensky conceded, however, that for those who stick solidly to the treatment regime this generic drug combination could be just as effective.

Despite any slight loss in adherence or effectiveness that might occur, the authors concluded that 'generic-based ART in the US could yield substantial budgetary savings to HIV programmes.' In fact, the savings to be made from using generic HIV drugs could be even higher, as the authors used a 'conservative' estimate of possible savings, due to the fact that 'the efficacy and price reduction associated with generic drugs are unknown'.

Conflict of interest
The study was funded by the National Institute of Allergy and Infectious Diseases. The authors reported no other conflicts of interest.

Related articles

Can generic competition succeed at reducing cost of atorvastatin?

Cost savings due to prescribing of generic PPIs and statins in Scotland

Generics saved US$931 billion over last 10 years

Reference

1. Walensky RP, Sax PE, Nakamura YM, et al. Economic savings versus health losses: the cost-effectiveness of generic antiretroviral therapy in the United States. Ann Intern Med. 2013 Jan 15;158(2):84-92.

Permission granted to reproduce for personal and educational use only. All other reproduction, copy or reprinting of all or part of any 'Content' found on this website is strictly prohibited without the prior consent of the publisher. Contact the publisher to obtain permission before redistributing.