Generic and branded acetylcysteine bioequivalent Posted 25/02/2011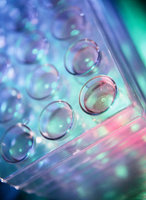 A single-dose study of acetylcysteine 600 mg found that three tablets of 200 mg of the generic formulation given orally were bioequivalent to a single 600 mg tablet of the branded drug.
Acetylcysteine is used as a mucolytic agent for the treatment of chronic bronchitis, chronic obstructive pulmonary disease and other pulmonary diseases complicated by the production of viscous mucus. However, little is known of its pharmacokinetic properties when given orally in healthy volunteers, particularly in a Chinese population.

The single-dose, open-label, randomised, two-period crossover study was carried out in 24 fasting healthy Chinese male subjects in order to compare the pharmacokinetics and relative bioavailability of a generic and a branded formulation. The study was conducted to provide support for the marketing of a generic product in China.

The results showed no formulation, period, or sequence effects. Log transformed Cmax (maximum serum concentration), AUC0-t (area under the curve from time of administration until blood sampling), and AUC0-∞ (area under the curve from time of administration to infinity*) met the predetermined criteria for assuming bioequivalence. Only two mild adverse events, which were not considered related to study drug administration, were observed in two subjects.

The authors found that both formulations were generally well tolerated and concluded that the two formulations were bioequivalent, i.e. they are, for all intents and purposes, the same.

*corresponds to a calculation of mean concentration levels of a therapeutic agent in the body.

Reference

Liu YM, Liu Y, Lu C, et al. Relative bioavailability of generic and branded acetylcysteine effervescent tablets: A single-dose, open-label, randomized-sequence, two-period crossover study in fasting healthy Chinese male volunteers. Clin Ther. 2010:32(12);2097-105.