Confusion exists in Brazil over generics Posted 21/02/2014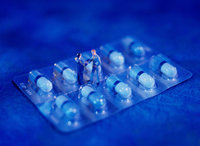 Brazilians are confused about generics and are unable to distinguish between a generic drug and a brand-name drug [1].
The Brazilian pharmaceutical market is the third largest in the Americas region, behind Canada and USA; it ranks first in the Latin American region. Since the introduction of generics in Brazil in 2001, they have been steadily gaining market share and in 2011 generics represented 20% of the Brazilian pharmaceutical market.

Generics cost on average 50% less than reference medicines and also belong to Brazilian government programmes, such as Saúde não TemPreç (Health Has No Price). Under this programme, medicines are distributed to patients free, or at very low prices. Most of the products included in this programme are intended for the treatment of chronic diseases, such as diabetes and hypertension. Generics account for 65% of the products distributed free under this programme, which benefited over seven million people in 2011.

Brazilian patients bear almost 80% of the country's medicine costs – in other words, almost eight out of 10 medicines purchased are paid out of consumers' own pockets. This fact, one might think, would give Brazilians an incentive to buy generics rather than brand-name medicines. However, research in the municipality of Belo Horizonte, Brazil, has shown that patients did not know the difference between generics and brand-name drugs.

A cross-sectional study was carried out, which included 403 patients across nine administrative districts of the municipality of Belo Horizonte. Participants were interviewed using a questionnaire, which was completed by the interviewee. Participants were excluded if they were not resident in the municipality of Belo Horizonte or if they had never heard of generics.

The results showed that the majority of patients (90%) had bought a generic drug and among those who had purchased generics 85.9% had used them. Interestingly, 45.7% of patients associated brand-name medicines with multinational drug companies and 48.9% associated generics with national companies, see Figure 1.

The vast majority of patients (83.4%) believed that generics were monitored by the Brazilian Government, with a lower number (73%) believing that brand-name drugs were also monitored by the government, and fewer still (62.3%) believing that they were monitored in the same way.

Despite the fact that almost all patients (91.6%) knew that approved generics in Brazil were identified by the letter G on the packaging, very few (25%) felt able to identify a generic drug from any other drug. The confusion seems to originate from the fact that half of the patients questioned (53%) thought that products with the same active ingredient were not generics and that generic drugs had trade names on their packaging.

Figure 1: Patient perception of differences between brand-name drugs and generics [1]

The results also showed that advice of the pharmacist was considered to be the most important when choosing which drug to buy (28.29%), followed by convenience of the dosage (24.57%), prior knowledge of the drug (15.63%), keeping the brand prescribed by the doctor (15.14%), price (9.43%) and the laboratory that manufactures the drug (6.20%).

The authors therefore conclude that there is a need for further education of the Brazilian public to increase knowledge about definitions and distinctions between generics and reference drugs. This, the authors believe could contribute to a reduction in replacement medical prescriptions and decrease self-medication.

Conflict of interest
The authors of the research paper [1] did not report any conflicts of interest.

Editor's comment

If you are interested in contributing a research paper in a similar area to GaBI Journal, please send us your submission here.

Readers interested to learn more about biosimilars in Latin America are invited to visit www.gabi-journal.net to view the following manuscript published in GaBI Journal:

Biosimilarity in Latin America

If you would like to receive a high-resolution copy of Figure 1*, please send us an email.

*For profit organizations subjected to a fee

Related articles

Brazil to designate medicamentos similares as interchangeable

Patients' knowledge and perceptions about generics in Australia

Reference

1. Sousa CV, Mesquita JM, Lara JE. [Analysis of the decision to buy medicine in light of the existence of generic products: a study in the city of Belo Horizonte, Brazil] [Article in Portuguese]. Cien Saude Colet. 2013;18(11):3311-20.

Permission granted to reproduce for personal and non-commercial use only. All other reproduction, copy or reprinting of all or part of any 'Content' found on this website is strictly prohibited without the prior consent of the publisher. Contact the publisher to obtain permission before redistributing.

Copyright – Unless otherwise stated all contents of this website are © 2014 Pro Pharma Communications International. All Rights Reserved.