Mylan launches generic asthma inhaler in UK Posted 03/07/2015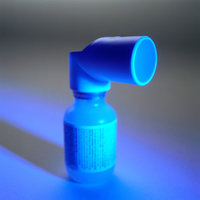 US generics manufacturer Mylan announced on 8 June 2015 that it had launched the first bioequivalent alternative to GlaxoSmithKline (GSK)'s asthma inhaler Seretide/Advair (fluticasone/salmeterol) in the UK.
The respiratory market is worth GBP 20 billion and it is forecast to grow at 2%. Seretide/Advair is the biggest selling inhalable drug for the treatment of asthma and/or chronic obstructive pulmonary disease (COPD) with worldwide sales of GBP 4.2 billion (US$6.6 billion) in 2014.

GSK's combination patent on Seretide/Advair expired in the US in September 2010. In most European markets the patent expired in 2013, while the UK patent was revoked in 2004 [1].

Mylan's generic version will be marketed under the brand name Sirdupla in the UK. Sirdupla is a pressurized metered-dose inhaler (pMDI) and is indicated to help treat or prevent symptoms of asthma in adults 18 years of age and older. The product is being manufactured by 3M Drug Delivery Systems.

The UK has one of the highest rates of asthma in Europe, affecting one in five households, and, on average, three asthma patients in the UK die every day from the condition. With 5.4 million people suffering from asthma in the UK, the condition costs the National Health Service (NHS) GBP 1 billion (US$1.53 billion) annually.

GSK has admitted that they expect Seretide/Advair sales to 'continue to decline in 2015 given sustained price pressure in the US and Europe' and 'generic competition in Europe'. However, despite this GSK appears not to be worried about generics competition. They have pointed out that Sirdupla is an MDI, whereas Seretide/Advair is approved as both an MDI and as a dry powder inhaler (DPI). Mylan's product is also only approved from the age of 18 years, whereas Seretide/Advair is approved for use in children with asthma from the age of four years.

There are generics to Seretide/Advair in five of the 15 markets in Europe. However, despite competition from generics GSK is still by far the leader in the respiratory market, with 33% market share. In Germany there have been generics to Seretide/Advair since the middle of 2012, however, to date the penetration of those generics in Germany has been less than 4% by volume.

So it remains to be seen how much of the market share Mylan's Sirdupla will grab. But any cheaper alternative can only be good news for patients.

Related articles
Biosimilars use in Europe varies widely

Mylan poised to enter generic inhalers market

Opportunities in the COPD market

Opportunities for generic inhalation and nasal spray drugs

Reference
1. GaBI Online - Generics and Biosimilars Initiative. Opportunities for generic inhalation and nasal spray drugs [www.gabionline.net]. Mol, Belgium: Pro Pharma Communications International; [cited 2015 Jul 3]. Available from: www.gabionline.net/Reports/Opportunities-for-generic-inhalation-and-nasal-spray-drugs

Permission granted to reproduce for personal and non-commercial use only. All other reproduction, copy or reprinting of all or part of any 'Content' found on this website is strictly prohibited without the prior consent of the publisher. Contact the publisher to obtain permission before redistributing.

Copyright – Unless otherwise stated all contents of this website are © 2015 Pro Pharma Communications International. All Rights Reserved.