FDA approves lung cancer and anticoagulant generics Posted 20/03/2020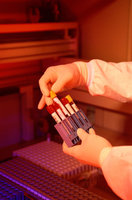 The US Food and Drug Administration (FDA) has issued a final approval for a generic version of Alimta (pemetrexed) and two new generics of Eliquis (apixaban).
Pemetrexed is a treatment for non-small cell lung cancer (NSCLC) and plural mesothelioma, a cancer of the lung lining most often caused by inhaling asbestos. It was first approved by FDA in 2004 (initially for plural mesothelioma, and in 2008 for NSCLC) and has been sold by Eli Lilly under the brand name Alimta.

US oncology specialty pharmaceutical company Eagle Pharmaceuticals (Eagle) announced in February 2020 that it received final approval from FDA for its generic version Pemfexy (pemetrexed for injection).

This follows Eagle's settlement with Eli Lilly reached at the end of 2019, which allows for an initial entry of Pemfexy into the market equivalent to approximately a three-week supply of Alimta beginning on 1 February 2022. Uncapped entry will begin on 1 April 2022.

Eagle received tentative approval from FDA for Pemfexy back in 2017 [1]. Of the final approval, Scott Tarriff, CEO of Eagle, said: 'We are pleased to receive final approval from FDA and look forward to making PEMFEXY available to the patients who can benefit. Our initial market exclusivity for PEMFEXY represents a significant opportunity for Eagle and builds on the successes of our expanding presence in the oncology space'.

FDA has also approved the first generic versions of Eliquis (apixaban), an anticoagulant used to prevent blood clots and stroke. It can also be used to prevent and treat deep vein thrombosis in patients who have undergone hip or knee replacement surgery. It is very commonly prescribed in the US and has previously been sold by Bristol Myers Squibb/Pfizer.

FDA approved two generic versions from Indian company Micro Labs and US generics giant Mylan. These are the first approvals from the regulatory agency not only for apixaban but for any direct oral anticoagulant. The products will be able to enter the market when patents on Eliquis expire in 2026.

Commenting on the approvals, Dr Janet Woodcock, Director of the FDA's Center for Drug Evaluation and Research, said: 'Today's approvals of the first generics of apixaban are an example of how the FDA's generic drug program improves access to lower-cost, safe and high-quality medicines'.

Related articles
FDA approves generics for cancer and gout

Alimta and Orfadin generics approved by FDA

Generic diabetes and cancer drugs pose challenge to Bristol-Myers Squibb and Eli Lilly

Reference
1. GaBI Online - Generics and Biosimilars Initiative. FDA tentatively approves pemetrexed generic [www.gabionline.net]. Mol, Belgium: Pro Pharma Communications International; [cited 2020 Mar 20]. Available from: http://www.gabionline.net/Generics/News/FDA-tentatively-approves-pemetrexed-generic

Permission granted to reproduce for personal and non-commercial use only. All other reproduction, copy or reprinting of all or part of any 'Content' found on this website is strictly prohibited without the prior consent of the publisher. Contact the publisher to obtain permission before redistributing.

Copyright – Unless otherwise stated all contents of this website are © 2020 Pro Pharma Communications International. All Rights Reserved.