Home / Biosimilars / Research / Phase I studies of infliximab and rituximab biosimilars demonstrate pharmacokinetic similarity
Phase I studies of infliximab and rituximab biosimilars demonstrate pharmacokinetic similarity Posted 01/08/2014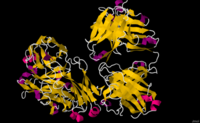 Results of phase I trials of pharma giant Pfizer's biosimilar infliximab and rituximab candidates have demonstrated similar pharmacokinetic properties compared to the originator products [1, 2].
The phase I double-blind studies were designed to demonstrate the pharmacokinetic similarity of Pfizer's biosimilar infliximab (PF-06438179) and biosimilar rituximab (PF-05280586) to Remicade (infliximab) and MabThera/Rituxan (rituximab), respectively, sourced from the US and EU, and between the US- and EU-sourced products. Safety was also evaluated.

For the infliximab trial, 151 healthy volunteers were enrolled and randomized 1:1:1 to the three treatment arms and 146 received a single 10 mg intravenous dose of PF-06438179 (n = 49), infliximab-US (n = 48) or infliximab-EU (n = 49).

For the rituximab trial, 220 subjects with active rheumatoid arthritis on a background of methotrexate who had an inadequate response to one or more tumour necrosis factor (TNF)-antagonist therapies were randomized 1:1:1 and received 1,000 mg intravenous doses of PF-05280586, rituximab-US or rituximab-EU on Days 1 and 15 (with stable background regimen of methotrexate).

For both trials the three study drugs exhibited a similar pharmacokinetic profile, which is characterized by a rapid increase of serum drug concentration during infusion followed by a multi-phasic decline in drug concentrations. In both studies, the 90% confidence interval for the ratios of Cmax, AUCt, and AUC0-∞ were within the bioequivalence acceptance window of 80–125% for the comparisons of PF-06438179 to infliximab-US or infliximab-EU, and infliximab-EU to infliximab-US and for the comparisons of PF-05280586 to rituximab-US and rituximab-EU, and rituximab-EU to rituximab-US. The safety profile was also similar across all three drugs in both trials.

The authors therefore concluded that the studies demonstrated the pharmacokinetic similarity of PF-06438179 to infliximab and of PF-05280586 to rituximab. The three study drugs in both trials were also generally safe and well-tolerated.

Conflict of interest
All of the authors of the abstracts [1, 2] are employees of Pfizer.

Editor's comment
It should be noted that these studies were published as abstracts and presented at a conference. These data and conclusions should be considered to be preliminary until published in a peer-reviewed journal.

Related articles
Biosimilar etanercept demonstrates equivalent efficacy

Pfizer carrying out biosimilar trastuzumab trial in US

References
1. Udata C, et al. A phase I pharmacokinetics trial comparing PF-06438179 (a potential biosimilar) and infliximab in healthy volunteers (REFLECTIONS B537-01). EULAR 2014, Paris, France; 11-14 June 2014.
2. Yin D, et al. A phase I pharmacokinetics trial comparing PF-05280586 (a potential biosimilar) and rituximab in subjects with active rheumatoid arthritis with active disease in TNF failures (REFLECTIONS B328-01). EULAR 2014, Paris, France; 11-14 June 2014.

Permission granted to reproduce for personal and non-commercial use only. All other reproduction, copy or reprinting of all or part of any 'Content' found on this website is strictly prohibited without the prior consent of the publisher. Contact the publisher to obtain permission before redistributing.

Copyright – Unless otherwise stated all contents of this website are © 2014 Pro Pharma Communications International. All Rights Reserved.