Pharmacists must be ready to take the lead on biosimilars Posted 13/12/2019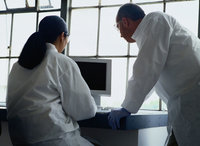 Pharmacists should take the lead in increasing the adoption of biosimilars in clinical practice, says a review of the implications of biosimilars for pharmacy practice. The review suggests that pharmacists in all settings can take a key role in advocating for biosimilars [1].
Patients on branded medicines are up to three times more likely to abandon their treatment than those taking prescribed generics medications. More affordable copies of brand name drugs are therefore highly important to increase access to drugs, as well as increasing medication adherence.

Biosimilars are copies of biological drugs, which are derived from a living organism or its products and include vaccines, blood products, gene therapies and antibodies. Biosimilars have reduced costs around the world and the global biosimilars market is expected to reach US$35 billion by 2020, driven by upcoming patent expiry for several blockbuster biological drugs.

However, access to biosimilars has been limited by various factors, including cost. Due to the complexity of the manufacturing process for biosimilars, relative to small molecule generic drugs, development costs are higher. In fact, development costs for biosimilars can be between US$75 to US$250 million per molecule. However, the savings for patients and healthcare systems is also vast, making the rapid adoption of biosimilars a priority.

A recently published commentary [1] highlights the role of pharmacists in this process, as educators, advocates and trailblazers for integrating biosimilars in clinical practice. The review discusses the opportunities of the widespread introduction of biosimilars in clinical practice and is aimed at pharmacists across healthcare settings.

Over 50 biosimilars have now been approved in markets around the world, however, progress varies by region. The US, for example, has lagged behind Europe, due to the nature of the US drug market and regulatory challenges. An infliximab biosimilar approved in 2015 for example, now has approximately 80% of the market share in the EU, while in the US the originator drug (Remicade) still holds 96% of the market share.

Changing this situation requires regulatory input, pharmacists can act as 'catalysts of change', asserts the article. For example, pharmacists can provide feedback to the US Food and Drug Administration (FDA) on biosimilar safety, through adverse event reporting and other comment forums. Pharmacists can also submit case studies on interchangeability and pharmacovigilance, which can inform guidance documents.

Regulatory affairs pharmacists can help by reviewing biosimilar drug applications, while those working in industry can oversee clinical trials and ensure that biosimilars are safe and effective. Pharmacists working in patient care also have an integral role, where they can decide on to use a biosimilar throughout a hospital for example. Pharmacists working in community settings have an important role in education and alleviation of patient concerns about biosimilars.

The authors conclude that pharmacists working in all settings should act as advocates for biosimilars. An important part of this is educating patients, providers and healthcare practitioners on what biosimilars are and how they relate to reference biologicals.

The article recommends education programmes to explain the principles of biosimilars and increase confidence in their use. As clinician and patient understanding of biosimilars improves, so will their adoption in clinical practice. Pharmacists are positioned to take the lead in this process and therefore will play a key role in realizing the benefits for patient care.

Conflict of interest
The authors of the research paper [1] declared no competing interests.

Editor's comment
Readers interested to learn more about biosimilars are invited to visit www.gabi-journal.net to view the following manuscripts published in GaBI Journal:

Global policies on pharmacy-mediated substitution of biosimilars: a summary

Pharmacovigilance, traceability and building trust in biosimilar medicines

Trends and challenges in biosimilars pricing and reimbursement policies in Europe and beyond

Readers interested in contributing a research or perspective paper to GaBI Journal – an independent, peer reviewed academic journal – please send us your submission here.

Related articles
New biosimilar guide for pharmacists in Australia

Automatic pharmacist substitution of biosimilars in Germany

Reference
1. Crawford JP, Hobbs AL. Biosimilars and implications for pharmacy practice: ready or not, here they come! Pharm Pract (Granada). 2019;17(3):1659.

Permission granted to reproduce for personal and non-commercial use only. All other reproduction, copy or reprinting of all or part of any 'Content' found on this website is strictly prohibited without the prior consent of the publisher. Contact the publisher to obtain permission before redistributing.

Copyright – Unless otherwise stated all contents of this website are © 2019 Pro Pharma Communications International. All Rights Reserved.