Inflectra may not be less expensive than Remicade in US Posted 09/11/2018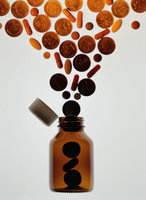 According to research carried out in the US, the cost of the infliximab biosimilar Inflectra (infliximab-dyyb) was only moderately less expensive than the originator biological Remicade (infliximab) in treating rheumatoid arthritis (RA) and exceeded US$14,000 annually under Medicare# Part D*. In addition, out-of-pocket costs for patients taking Inflectra may be more than US$1,700 higher than for patients taking Remicade.
Prescribing biosimilar versions of biologicals is intended to reduce costs, but due to the complexity of Medicare's cost-sharing structure it is difficult to determine whether this goal has been accomplished in many patient populations. For example, brand-name drugs and biologicals, but not biosimilars, are discounted during the coverage gap period that is triggered when a beneficiary's total drug costs exceed a designated threshold. This will change in 2019, when biosimilars will receive the same 50% discount as biologicals, but patients' out-of-pocket payments will still depend on whether they are treated the same or differently compared to biologicals in terms of pricing and plan cost-sharing requirements.

Author Yazdany and colleagues investigated the Medicare coverage and cost-sharing for Inflectra and Remicade from June 2017 to calculate out-of-pocket cost requirements and mean total cost for the two drugs. They found that, of 2,547 plans nationwide, only 10% covered the biosimilar, while 96% covered the originator biological. Inflectra had moderately lower costs over an 8-week prescription period, as well as on an annual basis (US$2,185 vs US$2,667 and US$14,202 vs US$17,335, respectively). However, all Part D plans required co-insurance cost-sharing similar to what was required with the originator infliximab. This led to projected out-of-pocket costs (without gap discounts) annually actually being higher, for Inflectra (US$5,118 per year) compared to Remicade (US$3,432 per year).

The authors concluded that although Inflectra was 18% less expensive than Remicade, it would cost patients US$1,700 more out of pocket. They also noted that, even with biosimilar gap discounts starting in 2019, Inflectra may still not significantly reduce out-of-pocket obligations for Part D beneficiaries due to its high price and co-insurance cost-sharing similar to Remicade. They pointed to the need for additional policies to address affordability and access to specialty drugs.

#Medicare is a national social insurance program, administered by the US federal government since 1966. It provides health insurance for Americans aged 65 and older who have worked and paid into the system. It also provides health insurance to younger people with disabilities.

*Medicare Part D, also called the Medicare prescription drug benefit, is an optional US federal-government program to help Medicare beneficiaries pay for self-administered prescription drugs through prescription drug insurance premiums.

Conflict of interest
The authors of the research paper [1] did not provide any conflict of interest statement.

Related articles
Real-life results for Inflectra compared to Remicade

Inflectra shows comparable results in IBD patients

Reference
1. Yazdany J, Dudley RA, Lin GA, et al. Out-of-pocket costs for infliximab and its biosimilar for rheumatoid arthritis under Medicare Part D. JAMA. 2018;320(9):931-3.

Permission granted to reproduce for personal and non-commercial use only. All other reproduction, copy or reprinting of all or part of any 'Content' found on this website is strictly prohibited without the prior consent of the publisher. Contact the publisher to obtain permission before redistributing.

Copyright – Unless otherwise stated all contents of this website are © 2018 Pro Pharma Communications International. All Rights Reserved.