Biosimilars in the age of patient-centricity Posted 06/03/2020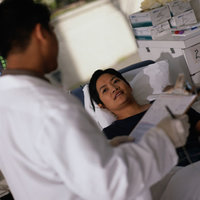 In 2020, nearly all pharmaceutical companies claim to be 'patient-centric'. In fact, some companies have even initiated processes of designing new treatments 'around the patient' and convened 'Patient Advisory Boards' to ensure patients provide their input into clinical trial design. In addition, though to a lesser extent, some have also developed educational programmes to ensure clinicians and patients truly understand the use and function of biosimilars. Regulators have also participated in the effort to ensure that patients consent to be prescribed biosimilar treatments and are well informed of their relative risks and benefits. President of the French Association of Pharmaceutical Medicine, Dr Francois-Xavier Frapaise, discusses how these latest 'patient-centric' efforts affect patients [1].
Despite these recent efforts, there is more to be done in this field, especially when one considers that even generics are still not fully accepted treatments. There are several levels of misunderstandings, if not myths, surrounding biosimilars. Most patients are confused mainly because many clinicians have an ambiguous attitude vis-à-vis biosimilars, as recently reported in Switzerland. One of the most critical ones is that reference compounds are not cast in stone, that their manufacturing processes tend to evolve over time. Some pharmacological activities, such as antibody-dependent cell-mediated cytotoxicity (ADCC), can drift over time, which can have serious clinical consequences, as recently reported by X Pivot. It has also been recently reported that the relevance of large phase III clinical trials to compare biosimilars to reference compounds is more than questionable.

In order to address this communication challenge, biosimilar companies, regulators and healthcare leaders should, with the support of independent scientific and medical societies, significantly invest in training all medical professionals, including nurses. The development of patient information/assistance programmes can also definitely help; partnering with patients organizations and regulators, organizing Patient Advisory Boards to ensure the clinical study is feasible and that informed consent forms provide accurate and useful information is helpful. Finally, providing economic incentives to patients to accept biosimilar prescriptions is probably an important success factor.

Above all, it is time to consider patients as 'partners', and no longer as 'subjects'. All stakeholders, including patients, must now realize that biosimilar adoption is one of the manifestations of an evolving Social Contract, by which patients accept biosimilars, allowing for expensive and life-saving biologicals to reach a wider population.

Conflict of interest
The author of the research paper [1] did not provide any conflict of interest statement.

Abstracted by Dr Francois-Xavier Frapaise, President of the French Association of Pharmaceutical Medicine, France.

Editor's comment
Readers interested to learn more about patient knowledge about biosimilars are invited to visit www.gabi-journal.net to view the following manuscript published in GaBI Journal:

A patient-centred paradigm for the biosimilars market

GaBI Journal is indexed in Embase, Scopus, Emerging Sources Citation Index and more.

Readers interested in contributing a research or perspective paper to GaBI Journal – an independent, peer reviewed academic journal – please send us your submission here.

Related articles
Concerns raised as Canada's Alberta plans to switch patients to biosimilars

FDA releases new patient guidance on biosimilars

Reference
1. Frapaise FX. Biosimilars: patient perspectives, challenges and emerging solutions: current opinions. J Drug Res Dev. 2019;5(1): dx.doi. org/10.16966/2470-1009.148

Permission granted to reproduce for personal and non-commercial use only. All other reproduction, copy or reprinting of all or part of any 'Content' found on this website is strictly prohibited without the prior consent of the publisher. Contact the publisher to obtain permission before redistributing.

Copyright – Unless otherwise stated all contents of this website are © 2020 Pro Pharma Communications International. All Rights Reserved.