Biopharmaceuticals and biosimilars: manufacturing processes Posted 16/10/2020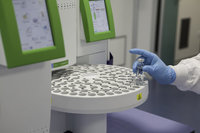 The active pharmaceutical ingredient (API) in biopharmaceuticals is manufactured using living systems such as microbial and mammalian cells. Due to this, their manufacture is complex. A recent review by Sia et al. published in GaBI Journal [1] has carried out an in-depth exploration of current biopharmaceutical manufacturing processes.
The review highlights that, with the expiration of patents of biopharmaceutical products, there will be a rise in the production of biosimilar products. These products have a complex molecular structure and high molecular mass and are far more difficult to characterize than smaller, conventional chemical pharmaceuticals. They are also sensitive to various conditions such as temperature, pH and mechanical stress and these must be monitored in manufacturing and processing to ensure the product's quality, safety and efficacy.

The manufacturing processes
The manufacturing processes to produce biopharmaceuticals are divided into upstream and downstream processing. The Sia et al. review summarized details of these processes (below) and stressed that, for all processes, controls on process variability and contamination must be prioritized and risks mitigated with appropriate strategies.

Upstream processing
Starting materials
Starting materials used to produce biopharmaceuticals include culture media, buffers and expression systems such as microbial or mammalian cells. Their source, origin and suitability should be clearly defined. They must also be assessed to ensure product safety. Controls such as supplier audits, screening for adventitious agents and viral reduction strategies should be in place. Additional information is needed if a starting material is of human or animal origin.

Cell banks and seed lots
The development of cell banks and seed lots starts with the construction of the vector and recombinant gene. Here, bacterial plasmids and cells are commonly used for vector construction. Bacterial genes are manipulated using enzymes to insert the recombinant gene. Genes are delivered into host cells via transfection with replication-defective viruses, physical or chemical means.

The host cells used depends on the type of biopharmaceutical being produced. Appropriate cell lines or seed lots are selected to establish the master bank of cell lines or seed lots. These must be extensively characterized as they will then go on to produce the working cells or seed lots.

Cell culturing
The API is produced during cell culturing. This is either a batch-fed (more common) or continuous culture.

In batch-fed culturing, the culture is expanded via sequential scaling up using bioreactors of increasing volumes. The cell culture is terminated before the death phase and the culture medium is harvested.

In continuous cell culture, initially there is a scaling up of cell culture to an optimum cell density. Then, the culture medium is continuously harvested at the same rate that fresh medium is added to maintain the cell density. Theoretically, this should produce an API that has consistent quality. The bioreactors used are smaller than for batch-fed, but the process is often more complex and costly to operate and validate.

Downstream processing
Isolation, concentration and purification of API
Downstream processing entails recovery, intermediate purification and polishing (RIPP) stages.

During recovery, the API is separated from the culture medium and subsequently concentrated. For APIs produced intracellularly, cell lysis allows release. This is carried out mechanically, e.g. sonication, or non-mechanically, e.g. enzymes. Following this, further purification from cellular debris is needed. APIs produced by mammalian cells are typically secreted extracellularly and can be directly purified. The API must be separated from impurities and viral inactivation or removal is often necessary, apart form for gene therapy APIs. Separation methods include centrifugation and filtration.

Intermediate purification methods then include tangential filtration and liquid-liquid extraction. Final polishing includes chromatography methods.

Final product preparation
The API is then combined with excipients such as buffers, salts and preservatives to prevent product degradation or contamination. Biopharmaceuticals are often prepared as freeze-dried powders as their stability is limited in liquid form. Additionally, choosing a suitable packaging material is important as it should not interact with the API and jeopardize quality.

Manufacturing challenges and insights into good manufacturing practice (GMP)
This outline demonstrates that biopharmaceuticals share similar manufacturing processes. Additionally, Sia et al. highlights the challenges faced in the manufacture of biopharmaceutical products and outlines how they can be overcome [2]. It also advises that manufacturers must have extensive product and process understanding to ensure methods are suitable or relevant for their product.

Sia et al. then investigated the need for global harmonization of GMP standards for biopharmaceutical production [3]. Through a detailed analysis of the standards of various global regulatory authorities and international organizations, they highlighted several challenges that must be overcome to achieve acceptable GMP harmonization [4].

Related article
Biopharmaceuticals and biosimilars: challenges in manufacture, regulation and international harmonization of GMP

References
1. CH Sia, MK Sia, LW Chan. Global challenges in the manufacture, regulation and international harmonization of GMP and quality standards for biopharmaceuticals. Generics and Biosimilars Initiative Journal (GaBI Journal). 2020;9(2):52-63. doi:10.5639/gabij.2020.0902.010
2. GaBI Online - Generics and Biosimilars Initiative. Biopharmaceuticals and biosimilars: manufacturing challenges [www.gabionline.net]. Mol, Belgium: Pro Pharma Communications International; [cited 2020 Oct 16]. www.gabionline.net/Biosimilars/Research/Biopharmaceuticals-and-biosimilars-manufacturing-challenges
3. GaBI Online - Generics and Biosimilars Initiative. Biopharmaceuticals and biosimilars: global harmonization GMP standards [www.gabionline.net]. Mol, Belgium: Pro Pharma Communications International; [cited 2020 Oct 16].
4. GaBI Online - Generics and Biosimilars Initiative. Biopharmaceuticals and biosimilars: regulatory challenges for global harmonization GMP standards [www.gabionline.net]. Mol, Belgium: Pro Pharma Communications International; [cited 2020 Oct 16].

Permission granted to reproduce for personal and non-commercial use only. All other reproduction, copy or reprinting of all or part of any 'Content' found on this website is strictly prohibited without the prior consent of the publisher. Contact the publisher to obtain permission before redistributing.

Copyright – Unless otherwise stated all contents of this website are © 2020 Pro Pharma Communications International. All Rights Reserved.