Bevacizumab improves survival in NSCLC patients Posted 20/10/2017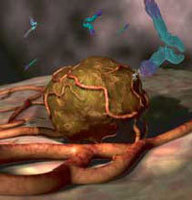 In what could be good news for recently approved bevacizumab biosimilar Mvasi, a study has shown that bevacizumab-containing regimens improve survival in advanced non-squamous non–small cell lung cancer (NSCLC) patients.
Author Mark Walker of Vector Oncology and colleagues from Genentech and the West Cancer Center, USA, studied efficacy outcomes and patient reported outcomes (PROs) in oncology patients in a real-life setting [1].

The study analysed data from 147 NSCLC patients who were treated with first-line bevacizumab regimens or non-bevacizumab regimens in 34 US community oncology practices. The bevacizumab regimen (Regimen A) included platinum doublet, gemcitabine doublet and pemetrexed with platinum (n = 66; 44.9%). The non-bevacizumab regimens were platinum or gemcitabine doublet (Regimen B: n = 25; 17.0%) or pemetrexed with platinum (Regimen C: n = 56; 38.1%).

The results showed that Regimen A was associated with significantly longer overall survival (OS) than Regimen B [hazard ratio (HR) = 0.341, p = 0.0012] and significantly longer than Regimen C (HR = 0.602, p = 0.0354). Results for OS were similar. Irrespective of regimen group and on 12/32 measures, patients showed significant and clinically meaningful worsening of symptoms and health related quality of life (HRQOL) at disease progression. After disease progression, the pattern of symptom and HRQOL change showed continued worsening.

The authors concluded that 'bevacizumab-containing regimens were associated with longer progression-free survival (PFS) and OS compared with non-bevacizumab regimens. PRO measures show disease progression is associated with worsening HRQOL. Delaying disease progression can sustain better HRQOL and reduce symptom burden'.

The bevacizumab biosimilar, Mvasi (bevacizumab-awwb), is produced by biotech giant Amgen and partner Allergan. It was approved by the US Food and Drug Administration (FDA) in September 2017 [2].

Conflict of interest
Some of the authors of the research paper [1] are employees of Genentech or work as consultants for Genentech.

For full details of the authors' conflict of interest, see the research paper [1].

Editor's comment
Readers interested to learn more about bevacizumab biosimilars are invited to visit www.gabi-journal.net to view the following manuscript published in GaBI Journal:

Biosimilarity of anticancer monoclonal antibodies in the clinic

GaBI Journal is indexed in Embase, Scopus, Thomson Reuters' ESCI, and more.

Readers interested in contributing a research or perspective paper to GaBI Journal – an independent, peer reviewed academic journal – please send us your submission here.

Related article
Biosimilars of bevacizumab

References
1. Walker MS, Wong W, Ravelo A, Miller PJE, Schwartzberg LS. Effectiveness outcomes and health related quality of life impact of disease progression in patients with advanced nonsquamous NSCLC treated in real-world community oncology settings: Results from a prospective medical record registry study. Health Qual Life Outcomes. 2017;15(1):160.
2. GaBI Online - Generics and Biosimilars Initiative. FDA approves bevacizumab biosimilar Mvasi [www.gabionline.net]. Mol, Belgium: Pro Pharma Communications International; [cited 2017 Oct 20]. Available from: www.gabionline.net/Biosimilars/News/FDA-approves-bevacizumab-biosimilar-Mvasi

Permission granted to reproduce for personal and non-commercial use only. All other reproduction, copy or reprinting of all or part of any 'Content' found on this website is strictly prohibited without the prior consent of the publisher. Contact the publisher to obtain permission before redistributing.

Copyright – Unless otherwise stated all contents of this website are © 2017 Pro Pharma Communications International. All Rights Reserved.