Barriers and facilitators to biosimilar prescribing in the UK Posted 08/02/2019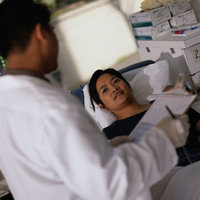 At present, the rate of uptake of biosimilars is keenly debated among stakeholders in different healthcare specialties. Aladul et al. examined the perspectives on biosimilars among healthcare professionals (HCPs) from gastroenterology, rheumatology and diabetes specialities to shed light on barriers and facilitators to their prescribing in the UK [1]. In a qualitative, cross-sectional study, 22 HCPs (consultants, nurses and pharmacists) from five hospitals in the West Midlands were interviewed.
Similarities in HCP attitudes to biosimilars included contentment to initiate newly diagnosed patients on biosimilars without giving the patient the choice, disagreement with automatic substitution of biosimilars at the pharmacy level, and disagreement with multiple switching for cost benefits. HCPs differed on their acceptance of switching to biosimilars and the pathway of switching, their acceptance of indication extrapolation, and cost saving and sharing.

Gastroenterology HCPs were more open to switching patients from a reference biological medicine to a biosimilar than rheumatology and diabetology HCPs, explaining that the availability of data, experience from other Trusts and countries, and guidance from professional associations support switching. Rheumatologists preferred to initiate patients on a biosimilar rather than to switch from a reference biological. This may be because they use less infliximab than gastroenterology HCPs, and because etanercept, the molecule they use more frequently, only became available as a biosimilar in March 2016. In addition, compared with gastroenterologists, rheumatologists wanted more real-world data on switching and clarity on the pathway for switching; a lack of guidance from their professional association on switching may contribute to this.

Diabetology HCPs were reluctant to switch to a biosimilar for cost reasons. They explained that as they deal with complicated patients in the hospital setting and pay for insulin only in the short term, general practitioners should be the ones to switch patients as they have the capability to monitor patients, and it would be them who benefited from cost savings.

All HCPs who were comfortable with switching felt that patients should be given the choice between biosimilars and the reference biological medicine.

Gastroenterologists were content with informing the patient by post, whereas rheumatologists preferred face-to-face consultations which they believed would give them a chance to address any patient concerns. Across all specialities, the majority of HCPs felt multiple switching based on cost savings alone was unreasonable and may diminish the trust between patient and clinician.

The HCPs whose department shared the savings associated with biosimilar use with commissioners were content with using biosimilars. They believed that biosimilar use would improve their department and the service provided to patients; these departments had used shared savings to fund a biological nurse. In contrast, HCPs whose department had not received a share of the savings felt biosimilar utilization negatively impacted their department resources and patient service. They explained that the switching process meant they had to run extra clinics and meet with patients more frequently, leading to increased monitoring and paperwork.

In terms of the evidence-based for biosimilars, gastroenterology HCPs had fewer concerns than other specialists. Although biosimilar indication extrapolation has been a source of debate among HCPs [2], gastroenterologists reported successful experience with indication extrapolation of infliximab biosimilars from rheumatology to gastroenterology. They expressed that this positive experience has led them to be more open to the concept of indication extrapolation; this sentiment could lead to a quicker uptake of impending adalimumab biosimilars. By contrast, the majority of rheumatology HCPs were more cautious about indication extrapolation.

Safety and efficacy concerns were the most common reason for the HCPs not prescribing biosimilars. The lack of long-term safety data and the complexity of the protein raises concerns about unexpected adverse events, serious side effects and infections. The majority of HCPs indicated that an increase in the rate of side effects among patients on a local or national scale, or the development of an unexpected adverse event, would deter them from prescribing biosimilars. Half of diabetology, rheumatology and some gastroenterology HCPs valued more supporting real-world data on the efficacy and safety of biosimilars from other Trusts.

Some HCPs identified patient reluctance to accept biosimilars on the basis of cost alone as a barrier to the uptake of biosimilars, as a patient has the right to refuse to switch to a biosimilar even after a consultation with the treating HCP. For rheumatologists, the administration device of biological medicine is an important factor or barrier to prescribing. Non-user-friendly and complex devices were the main causes of reluctance and errors by patients.

The question of who benefited from the associated costs savings was cited as the main reason for the delay in including biosimilars into the hospital formulary. Some HCPs suggested that cost sharing with the department would increase their use of biosimilars.

Related articles
Stakeholder perspectives on biosimilars in oncology

Obstacles to the use of biosimilars in the US

References
1. Aladul MI, Fitzpatrick RW, Chapman SR. Healthcare professionals' perceptions and perspectives on biosimilar medicines and the barriers and facilitators to their prescribing in UK: a qualitative study BMJ Open. 2018;8(11):e023603.
2. Ebbers HC, Chamberlain P. Controversies in establishing biosimilarity: extrapolation of indications and global labelling practices. BioDrugs. 2016;30(1):1-8.

Permission granted to reproduce for personal and non-commercial use only. All other reproduction, copy or reprinting of all or part of any 'Content' found on this website is strictly prohibited without the prior consent of the publisher. Contact the publisher to obtain permission before redistributing.

Copyright – Unless otherwise stated all contents of this website are © 2019 Pro Pharma Communications International. All Rights Reserved.