Anti-drug antibody assays for biosimilars and originator biologicals Posted 27/10/2017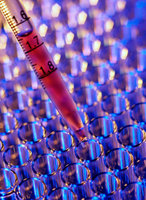 Biosimilar drug development has brought new challenges to bioanalytical ligand-binding assays used to determine drug concentration, anti-drug antibodies and neutralizing antibodies.
One particular challenge is how to demonstrate that the anti-drug antibody (ADA) assay can adequately detect antibodies against both the biosimilar and the originator biological. In this paper we review the current guidelines and literature for practical recommendations and present a gap analysis [1].

Although the regulatory recommendations are limited, it seems that in the literature, the one-assay approach using labelled biosimilar is emerging as a consensus in the bioanalytical industry. There is, however, less convergence on resulting questions and how they are to be addressed. These questions include: (i) what are the minimal requirements in terms of experimental design to claim comparable biosimilar and originator ADA binding and detection; (ii) which target criteria are to be met; (iii) whether these experiments should be performed during assay development or validation; and (iv) how to best document these experiments.

To address this, authors from Fresenius-Kabi present case examples of antibody binding comparability testing and discuss the challenges and implications involved in such testing.

Designing a suitable one-assay bioanalytical strategy is challenging – a careful balance is sought between required and unnecessary experiments. This is driven by time and cost constraints which are critical in biosimilar programmes and on the other hand submission or regulatory hold-up risk.

Based on experience from the authors' biosimilar assay applications, two experiments are presented to justify the one-assay approach as part of a recommended approach for ADA binding comparability testing. These two experiments demonstrate that the assay can in a similar manner detect antibodies directed against the biosimilar and originator biological.

The approach used by the authors evaluates this from two perspectives. The aim was to confirm that in the assay titrated ADAs can similarly bind to biosimilar/originator across a drug concentration range and also that ADA across a given antibody concentration range can similarly bind to biosimilars/originator at quench confirmatory concentration.

The authors suggest an initial development feasibility phase, which should generate confidence in the one-assay approach. During validation the same experiments should be repeated in order to confirm the approach in a more controlled setting. Experiments supporting the one-assay approach should be documented in a dedicated section in the development report and/or validation report. If an integrated summary of immunogenicity is used in submission, it should include a separate header for this topic where the suitability of the one-assay approach is summarized.

Presenting a solid bioanalytical package is critical in biosimilar drug development, in order to support pharmacokinetic and safety/efficacy trials. Current guidance documents do not address all the special considerations with bioanalytical assays used for similarity testing. Additional guidance on practical approaches is desirable. The intent in this paper is to provide a perspective on how to perform bioanalytical ADA binding comparability testing to justify the one-assay approach. The provided recommended approach is derived from the experience of the authors in the field of biosimilars, feedback from regulators and shared experiences from external collaborators.

Conflict of interest
The authors of the research paper [1] declared that there was no conflict of interest.

Abstracted by Janka Ryding, Fresenius-Kabi (SwissBiosim), Aubonne, Switzerland.

Related articles
Immunogenicity testing in biosimilars

Bioanalytical challenges in the development of biosimilars

Reference
1. Ryding J, Stahl M, Ullmann M. Demonstrating biosimilar and originator antidrug antibody binding comparability in antidrug antibody assays: a practical approach. Bioanalysis. 2017;9(18):1395-406.

Permission granted to reproduce for personal and non-commercial use only. All other reproduction, copy or reprinting of all or part of any 'Content' found on this website is strictly prohibited without the prior consent of the publisher. Contact the publisher to obtain permission before redistributing.

Copyright – Unless otherwise stated all contents of this website are © 2017 Pro Pharma Communications International. All Rights Reserved.