Analytical similarity assessment of teriparatide biosimilar Terrosa Posted 10/01/2020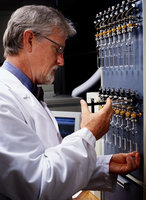 Terrosa and Movymia (both developed under the code name RGB-10), were the first biosimilars of Eli Lilly's osteoporosis biological Forteo/Forsteo (teriparatide) in Europe. Gedeon Richter and Stada Arzneimittel gained European Commission approval for Terrosa and Movymia in January 2017 [1] and launched the biosimilars in August 2019 [2]. Meanwhile, RGB-10 was also approved in other countries, including Switzerland and Japan.
Teriparatide, produced by recombinant DNA technology, is a single-chain, 34-residue linear polypeptide without any post-translational modifications. The molecule shows complete sequence homology with the N-terminal 1-34 active fragment of the endogenous human parathyroid hormone, which promotes the remodelling of bone through binding and activation of the PTH-R1 receptor. This makes it an effective anabolic, i.e. bone growing, agent. It is therefore used for the treatment of osteoporosis in postmenopausal women and men at high risk for fracture and for glucocorticoid-induced osteoporosis in men and postmenopausal women.

For marketing authorization, biosimilarity should be proven by a step-wise process involving a comprehensive head-to-head similarity assessment of the biosimilar and the reference biological at quality, non-clinical and clinical levels. A comprehensive quality similarity study, performed by the application of orthogonal and state-of-the-art analytical techniques, is considered to be the most sensitive scientific indicator of similarity and should provide analytical confirmation that any differences observed in the quality attributes have no adverse impact on the safety or the efficacy of the medicinal product [3].

Results from the extensive comparative physicochemical and biological characterization, using a wide range of state-of-the-art, orthogonal methods, prove the similarity of RGB-10 to its reference biological at the quality level. The quality comparability study was designed to investigate all critical quality attributes, covering all relevant attributes of the protein necessary for appropriate functionality.

First of all, comparison of the amino acid sequence with that of the reference product, as an essential requirement for biosimilars, proved that the primary structure of teriparatide is identical in the two products by tandem mass spectrometry (MS/MS) analysis. This method was used to identify different variants and degradation products, including oxidized and deamidated forms. These variants were quantified by reversed-phase and ion-exchange chromatographic methods and similarity was verified.

The similar higher-order structures were demonstrated by two-dimensional nuclear magnetic resonance, which is capable of sensitively detecting structural differences.

Similar biological activity of biosimilars should be verified by a set of different ligand binding and cell-based functional assays. This assay set-up depends on the mode-of-action of the protein and should cover all clinically relevant biomolecular interactions and their functional consequences. In the case of teriparatide, the similar potency of RGB-10 and the reference product was proven using PTH-R1 receptor binding, immunologic reactivity and functional cyclic AMP (cAMP)-release assay on two different cell lines and the two products were considered to be comparable.

The results of the quality comparability exercise demonstrated the high level of analytical similarity and formed the basis for the specifically designed clinical programme of RGB-10. This included a single pharmacokinetic/pharmacodynamic study demonstrating bioequivalence, which supported the approval of the marketing authorization application of Terrosa.

Abstracted by Zoltán Urbányi, PhD, Manager of Biotechnology Research Department at Gedeon Richter Plc, Hungary.

Conflict of interest
The authors of the research paper [1] declared that they are employees of Gedeon Richter Plc or Richter Helm Biologics GmbH & Co KG.

References
1. GaBI Online - Generics and Biosimilars Initiative. Biosimilars approved in Europe [www.gabionline.net]. Mol, Belgium: Pro Pharma Communications International; [cited 2020 Jan 10]. Available from: www.gabionline.net/Biosimilars/General/Biosimilars-approved-in-Europe
2. GaBI Online - Generics and Biosimilars Initiative. Teriparatide biosimilar Terrosa launched in Europe [www.gabionline.net]. Mol, Belgium: Pro Pharma Communications International; [cited 2020 Jan 10]. Available from: www.gabionline.net/Biosimilars/News/Teriparatide-biosimilar-Terrosa-launched-in-Europe
3. Kovács P, Schäfer T, Háda V, et al. Comparative physicochemical and biological characterisation of the similar biological medicinal product teriparatide and its reference medicinal product. BioDrugs. 2019 Oct 8. doi:10.1007/s40259-019-00386-x. [Epub ahead of print]

Permission granted to reproduce for personal and non-commercial use only. All other reproduction, copy or reprinting of all or part of any 'Content' found on this website is strictly prohibited without the prior consent of the publisher. Contact the publisher to obtain permission before redistributing.

Copyright – Unless otherwise stated all contents of this website are © 2020 Pro Pharma Communications International. All Rights Reserved.
Comments (4)
Response to 'Non comparable Teriparatide' posted 21/01/2020 - by Michelle D, GaBI Online Editorial Office
Dear Sirs, Thank you for your comments and received on 15 January 2020. No, we would not call Osteofortil a biosimilar, we term these 'similar biotherapeutic products' in Latin America, see http://www.gabionline.net/Biosimilars/General/Similar-biotherapeutic-products-approved-and-marketed-in-Latin-America. Best Regards, Michelle
Response to 'definition of MS/MS' posted 21/01/2020 - by Anna Z, GaBI Online Editorial Office
Dear AKI, Thank you for your valuable comments and insight received on 13/1/2020, we have followed-up on your suggestion and researched the issue further. As a result, we have updated article 'Analytical similarity assessment of teriparatide biosimilar Terrosa' with the current information. We very much appreciate your kind feedback, and please continue with your valuable comments to GaBI Online. Thank you for your interest in GaBI. Please enjoy the quality information and content published. Best Regards, Anna
Non comparable Teriparatide posted 15/01/2020 - by DS
I would like to see Gabi comment on this product (Osteofortil), it´s approved in my country without clinical study. Is it fair to call it a Biosimilar??? https://www.biosidus.com.ar/producto-osteofortil.html
blunder in definition of MS/MS posted 13/01/2020 - by AKI
Dear Sir or Madam, please correct the frightfully wrong definition of MS/MS in this article... FYI: https://en.wikipedia.org/wiki/Tandem_mass_spectrometry Best regards, AKI