GE Healthcare expands biologicals business Posted 23/03/2012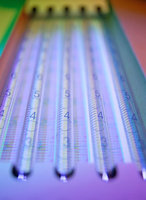 GE Healthcare, the health business of General Electric, announced on 7 March 2012 that it had reached an agreement to acquire biologicals manufacturer Xcellerex.
The acquisition of Xcellerex allows GE Healthcare to expand the number of biological products in its portfolio, such as recombinant proteins, antibodies and vaccines.

Xcellerex develops and produces turnkey biomanufacturing systems and production-scale bioreactors based around single-use components. The proprietary products offer significant advantages such as faster installation, lower capital investment, reduced risk of cross-contamination, and significantly increased flexibility compared with traditional manufacturing technologies.

Xcellerex's production-scale single-use bioreactor systems are complementary to GE Healthcare's products and range of media for cell culture. Xcellerex's FlexFactory is a complete custom-designed modular production platform based around single-use technologies that helps customers deploy manufacturing capacity more quickly.

Combining the expertise and capabilities of the two companies will enable GE Healthcare to offer a substantially wider range of added value, integrated products and services to the biopharmaceutical industry.

Dr Nigel Darby, Vice President of BioTechnologies and Chief Technology Officer at GE Healthcare Life Sciences said, 'GE Healthcare has built a world-class set of tools, technologies and services for the biopharmaceutical manufacturing industry, and by adding Xcellerex's innovative products to our portfolio, we will be able to strongly enhance our customer offering. GE and Xcellerex share the vision that an integrated approach, where we can help customers optimise every stage of their manufacturing process, has the potential to increase production flexibility and to deliver higher yields of finished product while reducing time to market. With the global focus on spiralling health costs and the need for sustainable healthcare, these are critical issues for the industry.'

Welcoming the acquisition, Mr Guy Broadbent, President and CEO of Xcellerex, said 'We are very excited to become part of GE Healthcare's Life Sciences business. The combination of Xcellerex's people, technologies and services with the resources and global reach of GE Healthcare will allow us to bring forward our plans to grow the business. The integration of Xcellerex's products with GE Healthcare's complementary capabilities in upstream and downstream bioprocessing will help bring great benefits to our customers. The entire Xcellerex team looks forward to joining GE.'

No financial terms were disclosed but the acquisition is expected to be completed during the second quarter of 2012.
Source: GE Healthcare, Xcellerex