Stakeholder perspectives on biosimilars in oncology
Posted 05/10/2018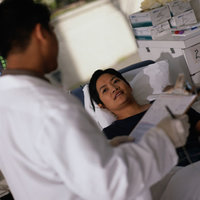 Monoclonal antibody biosimilars represent a novel advance in the field of oncology, and their integration into routine clinical practice present challenges for clinicians, nurses, patients and regulators. Researchers therefore investigated the perspectives stakeholders including a clinician, specialist nurse, patient advocate, regulator and economist on optimizing the uptake of monoclonal antibody biosimilars in the treatment of cancer [1].
The first oncology biosimilars were approved in the European Union (EU) in 2017 [2]. However, since then many more have been approved. To date (October 2018), six rituximab, one bevacizumab and four trastuzumab biosimilars have been approved, and others are on the way. One biosimilar application for trastuzumab, two for rituximab and one for trastuzumab are under consideration by the European Medicines Agency (EMA) [3].
Clinicians
From the perspective of the clinician, important considerations in relation to biosimilars include the need for scientific data and guidance to enable them to have informative discussions with patients. Requirements include:
comprehensive information on the results of clinical trials conducted to support the marketing authorization of biosimilars
data relating to extrapolation, interchangeability (switching and substitution) and immunogenicity
awareness of the pharmacovigilance plan (risk management plan).
This body of data, according to the authors, 'should be transparent and easily accessible, with the Summary of Product Characteristics (SmPC) and the European Public Assessment Report (EPAR) representing an invaluable source of information'.
Nurses
Specialist cancer nurses are responsible for ensuring the patient receives the exact medicine prescribed (type of medicine, dose, administration route and timing) and can play an important role in instructing patients on handling different medicine presentations, e.g. use of prefilled syringe versus an autoinjector.
However, concerns expressed by such nurses include the ad hoc nature of training for nurses on new biosimilars, with more effort being given to training clinicians. In fact, a 2011 survey by the National Comprehensive Cancer Network (NCCN) that a lack of familiarity and need for comprehensive information (scientific, economic and expert opinion) were more commonly reported by nurses than by physicians or pharmacists. This highlights the need for training of specialist nurses in biosimilars.
Patients
In 2014, a survey of patients perspectives on biosimilars was carried out by the European Federation of Crohn's and Ulcerative Colitis Associations (EFCCA), an umbrella organization for over 30 patient associations.
The survey highlighted that many patients were unaware of biosimilars, while those who had heard of biosimilars expressed strong scepticism over extrapolation. While interchangeability was considered acceptable under certain conditions, transparency to properly understand their medication was paramount. Finally, traceability was noted as a concern, with patients expressing confusion over product naming and batches.
The results showed that patients want to be involved in the decision-making process and have concerns over sufficient patient education, extrapolation, switching, traceability, informed consent and access to information. This is where patient advocacy groups can play a role, building awareness among patient communities over issues impacting access to biologicals and biosimilars, and also contributing to patients' basic understanding of the science and issues surrounding biosimilars.
Conflict of interest
The authors of the research paper [1] reported conflict of interest, including having received research grants and honoraria from pharmaceutical companies. For full details of the authors' conflict of interest, see the research paper [1].
Editor's comment
Readers interested to learn more about stakeholder perspectives on biosimilars are invited to visit www.gabi-journal.net to view the following manuscripts published in GaBI Journal:
Current state of subsequent entry biologics (biosimilars) in Canada: a view from regulatory, reimbursement, clinician, and patient perspectives
Naming and labelling of biologicals – a survey of US physicians' perspectives
Naming and labelling of biologicals – the perspective of hospital and retail pharmacists
GaBI Journal is indexed in Embase, Scopus, Emerging Sources Citation Index and more.
Readers interested in contributing a research or perspective paper to GaBI Journal – an independent, peer reviewed academic journal – please send us your submission here.
Related articles
European perspective on biosimilars
Biosimilars: the clinical perspective
References
1. Wolff-Holz E, Garcia Burgos J, Giuliani R, et al. Preparing for the incoming wave of biosimilars in oncology. ESMO Open. 2018;3(6):e000420.
2. GaBI Online - Generics and Biosimilars Initiative. Biosimilars approved in Europe [www.gabionline.net]. Mol, Belgium: Pro Pharma Communications International; [cited 2018 Oct 5]. Available from: www.gabionline.net/Biosimilars/General/Biosimilars-approved-in-Europe
3. European Medicines Agency. Applications for new human medicines under evaluation by the Committee for Medicinal Products for Human Use. September 2018 [www.ema.europa.eu]. Brussels, Belgium: EMA; [cited 2018 Oct 5]. Available from: www.ema.europa.eu/documents/report/applications-new-human-medicines-under-evaluation-committee-medicinal-products-human-use-september_en.pdf
Permission granted to reproduce for personal and non-commercial use only. All other reproduction, copy or reprinting of all or part of any 'Content' found on this website is strictly prohibited without the prior consent of the publisher. Contact the publisher to obtain permission before redistributing.
Copyright – Unless otherwise stated all contents of this website are © 2018 Pro Pharma Communications International. All Rights Reserved.