Pharmacokinetics of CT-P6 in patients with HER2+ early-stage breast cancer
Posted 05/10/2018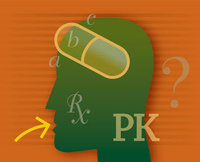 Researchers from Celltrion presented data that support the pharmacokinetic (PK) similarity between trastuzumab biosimilar CT‑P6 and originator trastuzumab (Herceptin) [1].
Celltrion's Herzuma (CT‑P6) was approved by the European Commission in February 2018 [2].
Clinical factors have been shown to affect trastuzumab parameters. The authors therefore compared known factors that may affect the PK of CT‑P6 and Herceptin in HER2+ early-stage breast cancer patients.
The randomized phase III trial compared the efficacy and PKs and safety between CT‑P6 and Herceptin (NCT02162667). A total of 549 patients were randomized to receive CT‑P6 (n = 271) or Herceptin (n = 278) with combination chemotherapy in the neoadjuvant setting. CT‑P6 or Herceptin was administered at 8 mg/kg (Cycle 1 only) followed by 6 mg/kg every 3 weeks. The primary endpoint was pathological complete response (pCR). Key PK parameters for CT‑P6 and Herceptin were assessed during the neoadjuvant period in terms of Ctrough and Cmax. Ctrough at steady state (pre-dose of cycle 8, CtroughSS) was analysed by age, race, weight and pathological response.
The serum concentration gradually increased and steady state was reached at cycle 7 (pre-dose of cycle 8). There was no statistically significant difference between CT‑P6 and Herceptin in any of the subgroups analysed.
These data were presented at the American Society of Clinical Oncology's (ASCO) 2018 Annual Meeting, which was held on 1−5 June 2018 in Chicago, IL, USA.
The authors concluded that 'the serum CtroughSS level of trastuzumab was comparable between CT‑P6 and Herzuma groups in all subgroups analyzed'. They added that 'these data support the PK similarity between CT‑P6 and Herceptin independently of age, race, weight or pCR assessment method'.
Conflict of interest
The authors of the abstract [1] reported conflict of interest, including having worked in a consulting or advisory role for or having received research funding from various pharmaceutical companies. Several of the authors also work for Celltrion. For full details of the authors' conflict of interest, see the abstract [1].
Editor's comment
It should be noted that data of the study presented in this article was published as an abstract and presented at a conference. These data and conclusions should be considered as preliminary until published in a peer-reviewed journal.
Related articles
Phase I study of biosimilar trastuzumab demonstrates equivalent pharmacokinetics to reference product
References
1. Stebbing J, Yu S, Kim M, Park S, Kim S, Kim H, Kim N, Esteva FJ. Pharmacokinetics of CT-P6 and reference trastuzumab by clinical factors in patients with HER2 positive early-stage breast cancer (EBC). American Society of Clinical Oncology (ASCO) 2018 Annual Meeting; 1-5 June 2018; Chicago IL, USA.
2. GaBI Online - Generics and Biosimilars Initiative. EC approval for trastuzumab biosimilar Herzuma [www.gabionline.net]. Mol, Belgium: Pro Pharma Communications International; [cited 2018 Oct 5]. Available from: www.gabionline.net/Biosimilars/News/EC-approval-for-trastuzumab-biosimilar-Herzuma
Permission granted to reproduce for personal and non-commercial use only. All other reproduction, copy or reprinting of all or part of any 'Content' found on this website is strictly prohibited without the prior consent of the publisher. Contact the publisher to obtain permission before redistributing.
Copyright – Unless otherwise stated all contents of this website are © 2018 Pro Pharma Communications International. All Rights Reserved.