Loss of efficacy after switching to biosimilar infliximab in Behcet's patients
Posted 17/11/2017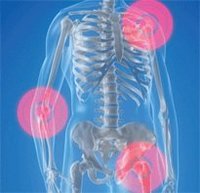 Authors from the Division of Rheumatology at the Hospital of Prato, Italy report on three patients with Behçet's disease that experienced disease relapses after switching from the originator infliximab, Remicade, to biosimilar infliximab [1].
Behçet's disease is a chronic, relapsing inflammatory disorder which involves veins and arteries of all sizes and affects multiple parts of the body. The most common symptoms include painful mouth sores, genital sores, inflammation of parts of the eye and arthritis.
The biosimilar infliximab Inflectra/Remsima was approved by the European Medicines Agency in June 2013 for the treatment of rheumatoid arthritis and ankylosing spondylitis [2]. Since biosimilar infliximab has a lower cost than Remicade, and in order to reduce the economic impact of biological therapies, the health authorities of some regions in Italy issued local rules for the automatic substitution of Remicade with biosimilar infliximab.
Cantini et al. report their experience with three Behçet's disease patients who were successfully treated with Remicade and who experienced recurrence of uveitis and of neuro-Behçet soon after switching to biosimilar infliximab. All patients experienced remission after being treated with adalimumab.
The authors point out that the few studies on switching from Remicade to biosimilar infliximab in rheumatoid arthritis, spondyloarthritis and inflammatory bowel diseases are reassuring in terms of efficacy maintenance and safety. However, they also point out that 'in a recent report, of 23 patients with stable disease remission who were switched from [originator infliximab] to [biosimilar infliximab], 7 experienced disease flare-ups after a mean interval of 2 months'. This raised concerns 'regarding the exchangeability of treatments in the absence of consolidated data from real cases'. Similar concerns have also been expressed by the Canadian Agency for Drugs and Technologies in Health, which, according to the authors, has recently stated that 'the current evidence does not show a sustained effectiveness and long term safety of [biosimilar infliximab], and that there is not enough data on the occurrence and impact of anti-drug antibodies (ADAs) over time'.
Cantini et al. believe that their experience 'appears to reinforce scepticism regarding the exchangeability and automatic substitution of reference [originator infliximab] with the biosimilar drug'. They speculate that these relapses were 'possibly due to cross-reaction of anti-IFX [infliximab] antibodies'; although they admit that they do not routinely measure circulating anti-drug antibodies in their clinical practice.
The authors concluded that 'the rapid disease relapse observed in our 3 patients with Behçet's disease soon after switching from [originator infliximab] to [biosimilar infliximab] further reinforces the claims that suggest caution concerning the automatic substitution of one treatment with the other'. They add that in order to verify their hypothesis about anti-drug antibodies 'further investigations need to be conducted'.
Conflict of interest
The authors of the research paper [1] declared that there was no conflict of interest and this studyhas received no financial support.
Related article
MS patient dies from immunogenicity to biological drug
References
1. Cantini F, Niccoli L, Nannini C, Cassarà E, Kaloudi O. Rapid loss of efficacy of biosimilar infliximab in three patients with Behçet's disease after switching from infliximab originator. Eur J Rheumatol. doi:10.5152/eurjrheum.2017.16112
2. GaBI Online - Generics and Biosimilars Initiative. Biosimilars approved in Europe [www.gabionline.net]. Mol, Belgium: Pro Pharma Communications International; [cited 2017 Nov 17]. Available from: www.gabionline.net/Biosimilars/General/Biosimilars-approved-in-Europe
Permission granted to reproduce for personal and non-commercial use only. All other reproduction, copy or reprinting of all or part of any 'Content' found on this website is strictly prohibited without the prior consent of the publisher. Contact the publisher to obtain permission before redistributing.
Copyright – Unless otherwise stated all contents of this website are © 2017 Pro Pharma Communications International. All Rights Reserved.