Fujifilm and Kyowa Hakko Kirin in biosimilars joint venture
Posted 02/12/2011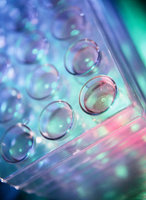 Japanese Fujifilm Corporation announced on 16 November 2011 that it is once again making an agreement in the biosimilars field, this time with biotech firm Kyowa Hakko Kirin, Tokyo, Japan.
Fujifilm and Kyowa Hakko Kirin have agreed to set up a joint venture with 50–50 capital participation for the development of biosimilars. The new venture will merge Fujifilm's advanced production, quality control and analysis technologies, developed through its photographic film business, with Kyowa Hakko Kirin's proprietary technologies and know-how, accumulated through its biopharmaceutical R&D and manufacturing, in order to create innovative production processes and achieve cost reduction for biosimilars.
Fujifilm has diversified into the pharmaceutical business as one of its focal areas for future growth. In the field of biopharmaceuticals, the company is accelerating its business through various initiatives including drug discovery of biopharmaceuticals by Perseus Proteomics and contract manufacturing of biopharmaceuticals by Fujifilm Diosynth Biotechnologies (UK and USA).
With this joint venture, Fujifilm intends to further reinforce the foundation of its biopharmaceutical business. Fujifilm aims to start a clinical trial for its first biosimilar candidate by 2013 and has the lofty goal of becoming market leader.
Partnerships, it seems, are set to drive biosimilars development and this is not the first biosimilars joint venture for Fujifilm. The company has also made a biosimilars deal with Indian industrial giant Reliance [1].
Biosimilars, despite their high development costs, are increasingly becoming part of the future of the pharmaceutical industry. The global biosimilars market is expected to grow from US$243 million in 2010 to US$3.7 billion in 2015 according to 2011 data from Datamonitor [2].
Related article
Biosimilars or biobetters–what does the future hold
References
1. GaBI Online - Generics and Biosimilars Initiative. Partnerships will drive biosimilar development [www.gabionline.net]. Mol, Belgium: Pro Pharma Communications International; [cited 2011 December 02]. Available from: www.gabionline.net/Biosimilars/News/Partnerships-will-drive-biosimilar-development
2. GaBI Online - Generics and Biosimilars Initiative. Stada and Richter to collaborate on biosimilar development [www.gabionline.net]. Mol, Belgium: Pro Pharma Communications International; [cited 2011 December 02]. Available from: www.gabionline.net/Biosimilars/News/Stada-and-Richter-to-collaborate-on-biosimilar-development