Real-life clinical effectiveness of Razumab in wet AMD
Posted 24/01/2020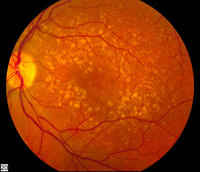 The multicentre, retrospective RE-ENACT 2 study evaluated the real-world effectiveness of ranibizumab biosimilar, Razumab, for the treatment of wet age-related macular degeneration (wet AMD). This report presents the results from a subgroup analysis of the RE-ENACT 2 study [1].
A previous retrospective study; REal life assessmENt of safety And effeCTiveness of Razumab (RE-ENACT); established the use of Razumab for the treatment of various retinal disorders in which patients had received three Razumab injections over 12 weeks [2].
The RE-ENACT 2 study was carried out at 17 centres across India, between September 2015 and June 2018. It evaluated the effectiveness of Razumab for a longer-duration (up to Week 48) with up to five Razumab injections. The study also included patients with myopic choroidal neovascularization (CNV), who were not included in the previous RE-ENACT study, in addition to wet AMD, retinal vein occlusion (RVO) and diabetic macular oedema (DMO) patients. In this subgroup analysis of the RE-ENACT 2 study, data from patients with wet AMD, who were treated with up to five injections of Razumab following a PRN (pro re nata, 'as needed') treatment regimen were analyzed.
The medical charts of 103 patients with wet AMD were included; the majority were men (62.1%) and were treatment naïve (74.8%); 57.9% of the patients had received 3 (range 1‒5) injections. Significant improvements were observed in best-corrected visual acuity (baseline: 0.92 ± 0.6 [n = 94]; Week 48: 0.51 ± 0.4 [n = 14]; p = 0.0014) and central subfield thickness (baseline: 430.83 ± 139.7 [n = 85]; Week 48: 301.26 ± 50.5 [n = 15]; p <0.0001). There was no clinically significant increase in intraocular pressure (IOP), despite intra-vitreal Razumab injection, and changes in IOP were minimal (baseline: 14.92 ± 3.2 [n = 94]; Week 48: 14.50 ± 2.1 [n = 18]; p = 0.9068). The proportion of patients having intra-retinal fluid (baseline: 63.6% [n = 99]; Week 48: 15% [n = 20]) and sub-retinal fluid (baseline: 82.3% [n = 96]; Week 48: 5% [n = 20]) were also decreased. In addition, the analysis for occult and classic subgroups resulted in similar outcomes. Furthermore, no significant differences were observed for efficacy outcomes when evaluated for treatment naïve versus previously treated patients. There were also no new safety concerns observed with Razumab.
This subgroup analysis demonstrates significant improvements in visual acuity and disease outcomes and reinforces Razumab as an effective treatment option in managing wet AMD in the real-world clinical setting.
Conflict of interest
The authors of the research paper [1] Drs S Sharma, MA Khan and A Chaturvedi are employees of Intas Pharmaceuticals.
Abstracted by Dr Shashikant Sharma, Intas Pharmaceuticals Ltd, Ahmedabad, India.
Related article
Biosimilars of ranibizumab
References
1. Sharma S, Khan M, Chaturvedi A; RE-ENACT 2 Study Investigators Group. A multicenter, retrospective study (RE-ENACT 2) on the use of Razumab™ (World's First Biosimilar Ranibizumab) in wet age-related macular degeneration. Ophthalmol Ther. 2019 Dec 27. doi:10.1007/s40123-019-00228-7. [Epub ahead of print]
2. GaBI Online - Generics and Biosimilars Initiative. Real-life clinical effectiveness of Razumab in retinal vein occlusion [www.gabionline.net]. Mol, Belgium: Pro Pharma Communications International; [cited 2020 Jan 24]. Available from: www.gabionline.net/Biosimilars/Research/Real-life-clinical-effectiveness-of-Razumab-in-retinal-vein-occlusion
Permission granted to reproduce for personal and non-commercial use only. All other reproduction, copy or reprinting of all or part of any 'Content' found on this website is strictly prohibited without the prior consent of the publisher. Contact the publisher to obtain permission before redistributing.
Copyright – Unless otherwise stated all contents of this website are © 2020 Pro Pharma Communications International. All Rights Reserved.