UK's NICE recommends pertuzumab with biosimilar trastuzumab Posted 15/03/2019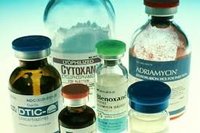 The UK's National Institute for Health and Care Excellence (NICE) has recommended originator pertuzumab with intravenous biosimilar trastuzumab and chemotherapy for the treatment of breast cancer.
In its final appraisal document, which was released on 15 February 2019, NICE recommended that pertuzumab with intravenous trastuzumab and chemotherapy (docetaxel) is recommended for the adjuvant treatment of human epidermal growth factor receptor 2 positive (HER2+) early stage breast cancer in adults with lymph-node-positive disease and provided that Roche sticks to the promised discounts on its originator pertuzumab, Perjeta.

In its final appraisal document NICE states that Roche has offered the UK's National Health Service a discount on Perjeta, which has a UK list price of GBP 2,395 for a 420 mg vial.

NICE does not indicate how much the discount on Perjeta might be. However, it does say that when the discount on the price of Perjeta, together with a weighted discount for biosimilar intravenous trastuzumab are taken into consideration, the 'cost-effectiveness estimate is comfortably below GBP 20,000 per quality-adjusted life year (QALY) gained'. The GBP 20,000 threshold is NICE's typical cost-effectiveness threshold and it is for this reason that the institute says that it has recommended adjuvant pertuzumab for HER2+ early stage breast cancer in people with lymph-node-positive disease.

This latest recommendation overturns NICE's August 2018 appraisal, which did not recommend Perjeta, with biosimilar trastuzumab and chemotherapy, for treatment of breast cancer. This was because, although the institute said that biosimilar trastuzumab would lower the cost of treatment, it was concerned that the treatment still might not be cost-effective.

To date, there are no biosimilars of pertuzumab. Companies working on biosimilars or non-originator biologicals of pertuzumab include Iran-based CinnaGen, Taiwanese company JHL Biotech, India-based Mabpharm, Australian biotech NeuClone and China-based Shanghai Henlius Biotech.

Related articles
Biosimilars in UK gain NICE recommendation

UK's NICE issues first biosimilar recommendation

Permission granted to reproduce for personal and non-commercial use only. All other reproduction, copy or reprinting of all or part of any 'Content' found on this website is strictly prohibited without the prior consent of the publisher. Contact the publisher to obtain permission before redistributing.

Copyright – Unless otherwise stated all contents of this website are © 2019 Pro Pharma Communications International. All Rights Reserved.